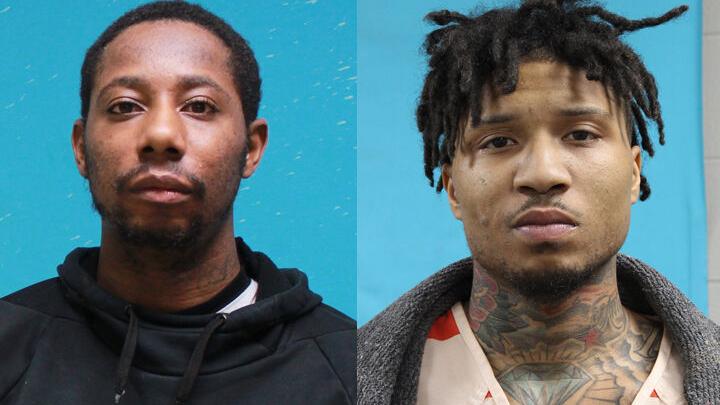 From left, Darius J. Ballentine and Deontay Maurice Holoman were arrested after police alleged they shot an officer in Cape Girardeau, Missouri.

Cape Girardeau Police Department

CAPE GIRARDEAU, MO – Two men face multiple criminal charges after Cape Girardeau Police Department alleges they shot an officer on New Year's Day.
Southeast Missouri Police Department reports that 30-year-old Darius J. Ballentine and 26-year-old Deontay M. Holloman were arrested after allegedly shooting at a police patrol car.
The police department said the officer was one of several investigators who patrolled residential areas after receiving gunfire. The department says the officer was patrolling the 3,000 block of Mimosa Street when he heard gunfire. The officer saw two men in the parking lot pointing handguns in his direction, police claim, and then saw muzzle flashes from the guns.
The officer got out of the patrol car, raised his department's pistol and ordered the men to drop their guns, the police department says. Instead, the men allegedly ran into an apartment. The police created a perimeter around the home and negotiated with the men for about 90 minutes before they left the home and surrendered to the police.
Ballentine and Holloman were each charged with first degree assault, armed criminal acts and the dropping of a gun on a motor vehicle. Ballentine was also charged with possession of a firearm by a criminal.
The two were taken first to the police department and later to the Cape Girardeau County Sheriff's Office, where investigators say they are still being held on $ 100,000 bonds.
In a statement on the arrests released on Monday, Cape Girardeau Police Chief Wes Blair said: "Police officers go to work every day knowing they are doing dangerous work. This does not excuse this violent and unprovoked attack on one of our own . " The shooting at police officers who are doing their job is an attack on the entire community and must be strongly condemned. The reluctance of the responding officers to arrest these suspects is commendable. "