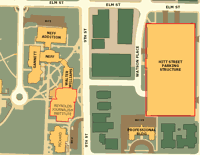 Hello and have a nice Wednesday!
We're only seven days away from the Columbia Missourian 2021 regional spellbee, and we'd like to share some more information about the Bee Day procedures.
Due to COVID-19, there are some rules that you need to adhere to this year:
ONLY ONE PARENT ATTENDED.
MASKS ARE REQUIRED AT ALL TIMES.
If you are sick, please stay home.
NO EATING OR DRINKING OUTSIDE THE BUILDING IS ALLOWED

Water is provided for parents and spell checkers.
Park
Parking is available in the parking garage on Hitt Street. There's no need to register your car or pay parking fees, and you can park on any level you prefer. Below is a diagram that shows where to go after parking.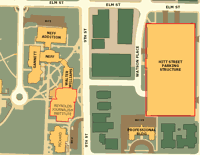 check in
Doors to Donald W. Reynolds Journalism are open for check-in from 4pm to 4:20 pm. The bee starts at 4:30 p.m. Please do not arrive earlier than 4 p.m.
The one parent present is sitting in the Palmer room of the Donald W. Reynolds Journalism Institute watching a video feed of the bee.
Spellers will be escorted to the Smith Forum where we will host the bee.
During the bee
Social distancing will be enforced and everything will be 6 feet apart in both the Smith Forum and Palmer Room.
Students are only allowed to take off their masks when they spell a word.
The microphone is disinfected between the individual spellings.
After a speller has been excluded from a round, he will be directed to the Palmer room after the round in which the parents are sitting.
Once the speller has been brought to their parent, they can go with their parent.
After the bee
Each speller will receive a t-shirt and pouch, as well as a medal for participating in the Columbia Missourian 2021 regional spelling bee.
communication
For more updates, please follow us on Twitter @MissourianB and our Columbia Missourian Regional Spelling Bee Facebook page.
If you have any questions or if accommodation is required for you or your spell checker, please contact us at spellingbee@missouri.edu or Elizabeth Stephens at stephensec@missouri.edu.