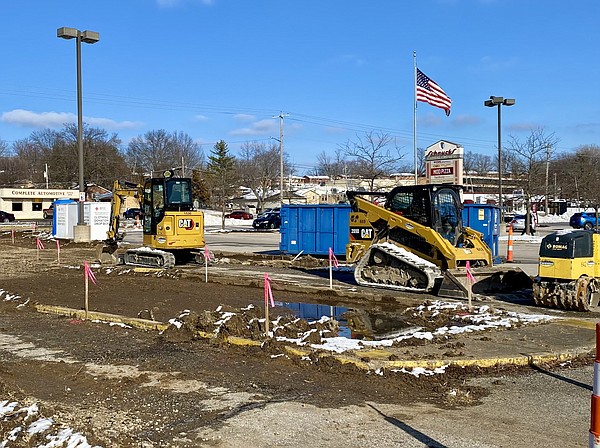 The Capital City's latest coffee shop is coming soon to Missouri Boulevard.
The Jefferson City location of 7 Brew is set to open in front of Schnucks in the next few months, with preliminary construction work under way for the small shop. A franchise labeled as a "brewing revolution" on its website, the drive-through chain offers coffee in various flavors, energy drinks, teas, soda, smoothies, shakes and more, with milk alternatives and sugar-free options available.
Drew Ritger, chief operating officer and director of franchising, said the new spot would be a great addition to the community.
"We're strictly a double drive-through, but our key attribute is cultivating kindness one customer at a time. It's all about providing a great experience for the customer," he said. "You can build anything you want in terms of a drink — if you want to treat yourself, you can. If you want to be healthy, you can. All of it is done by building whatever you want as your custom drink."
The franchise is quickly growing in Missouri and throughout the Midwest, with new locations opening regularly. There are seven 7 Brew locations open in Missouri so far, including three in Springfield and one in Branson. Other stores are open in the Kansas City and St. Louis areas.
"We're very excited to come to town and be part of the community there," Brandon Sebald, a franchisee of the Arkansas-based franchise who will be heading the Jefferson City location, said previously.
The spot was expected to create 40-50 new jobs.
Learn more about 7 Brew online by visiting 7brew.com.
Trolley Company celebrates successful season
As the holiday season draws to a close, so does The Trolley Company's first Christmas light tours under its new owners.
The Trolley Company has been under new ownership by Chris and Stephanie Ball since July. The couple aimed to put their ample experience with community events in Jefferson City to good use: Stephanie, a founding partner with Ellinger Bell and co-host of "Wake Up Columbia" on 93.9 The Eagle, previously served as president of the Downtown Jefferson City Association, while Chris is a director of operations with Capital Investment Realty.
The Bells, both Jefferson City natives, jumped at the opportunity to take over when former owners Michel and Donna Deetz decided to retire, aiming to maintain the service's charm and character while revamping its online booking and social media presence.
"We took over this company because we wanted to keep it going," Chris Bell said. "We enjoy getting to provide a fun and unique experience."
Each tour was 90 minutes and visited the Festival of Lights at Binder Park along with other decorated neighborhoods in town. The tours coincide with the Festival of Lights throughout the month of December, six nights a week.
From weddings to corporate parties, the ease of booking a ride has been a highlight for the local business.
"No one is stuck in the kitchen, has to drive or provide entertainment," Chris Bell said. "Once you get on the trolley, everything is taken care of until you get off. Everyone gets the same experience and amount of relaxation and enjoyment. "
Booking for the 2023 season began Jan. 1, and the service is already in high demand.
Beyond the Light Tours, the Trolley Company has and continues to support various community endeavors by transporting VFW honorees from the event center to dinner and Bike Across America participants through downtown Jefferson City.
In 2023, the Bells said they look forward to enhancing the Trolley Company's digital presence with enhancements to its online booking system. They're also looking into more opportunities for individuals to take a trolley ride year-round.
Book your event via email at [email protected] or visit online at www.thetrolleycompany.net.
>>> ad: See the Best Amazon Deals of TODAY! <<<<
Originally Appeared Here