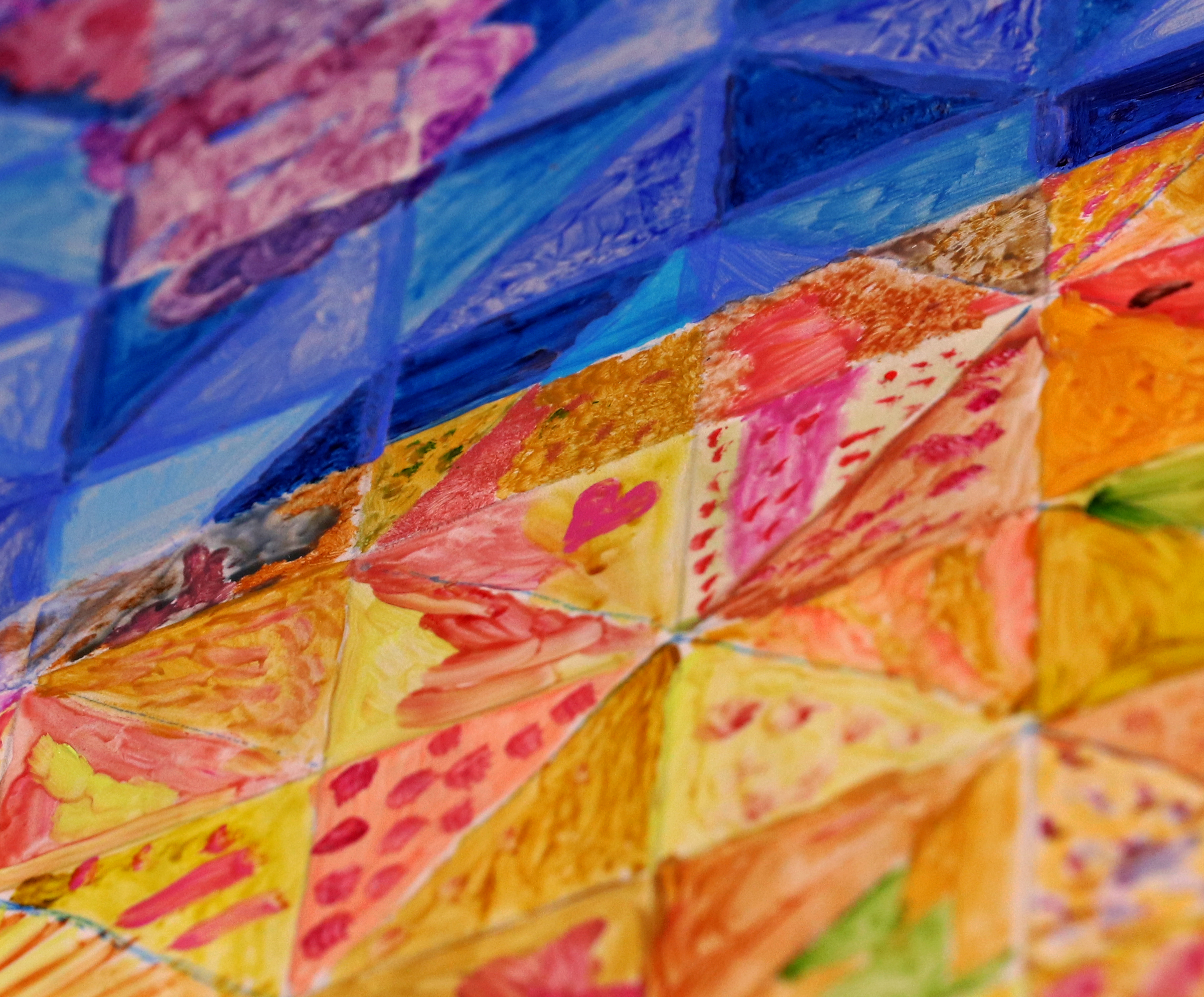 JEFFERSON CITY — The Missouri Bicentennial Mural, created by 16,116 people at events throughout the state, is officially complete after a dedication ceremony Thursday in the Harry S Truman State Office Building.
The 12-foot tall, 30-foot wide mural stands prominently in Harry's Place Cafeteria on the fourth floor of the Truman Building and holds the unofficial world record for most people contributing to a painting. Roughly 100 people stopped by the cafeteria for Thursday's dedication ceremony.
Sherry Kempf, project manager with the Office of Administration, said she's happy with where the mural is displayed and has heard positive comments from state employees so far.
"The Truman cafeteria has needed a mural on that wall forever, and it fills the spot perfectly," Kempf said. "I think it's a great addition."
Cape Girardeau artists Aaron Horrell and Barb Bailey initiated the Bicentennial Mural project in June of 2018. The first paint touched canvas 10 months later.
Horrell and Bailey traveled across the state with the mural for more than two years. More than 16,100 people from 358 Missouri towns, 30 states and 17 countries painted a triangle on the mural. The oldest painter was 102 years old and the youngest painter, who had help from family, was 12 days old. After it's completion in 2021, the artists donated the mural to the state.
"It's an amazing thing that the people of this state did, we just helped them," Horrell said.
"This was a really cool project and we were happy and sad that it was over," Bailey added.
The mural features 19 state symbols meant to represent the natural and cultural heritage of Missouri and its people, such as the Missouri fox trotter horse, channel catfish, fiddle and ice cream. The Gateway Arch in St. Louis, which became Missouri's state monument in 2021, was painted on the mural by elementary students before officially becoming a state symbol. The mural spurred the legislative process to make it one, Horrell said.
Horrell and Bailey write and illustrate children's books and usually include a hidden heart somewhere in the illustrations. After debating if they should include their M.O. in the mural, they decided to hide one in each state symbol.
"I think that's pretty awesome, actually," Horrell said. "I was opposed to the hearts at first, but you've got to have a heart."
The artists kept journals throughout their travels across the state and recorded each painter's name, age, hometown and occupation. Horrell said they kept the logs to maintain a record of from where the mural came. The journals are at the Painted Wren Art Gallery in Cape Girardeau, but he said they are talking about giving them to the State Historical Society of Missouri.
The goal was to create a statewide event, he said, and it was enriching to help so many people paint. In addition to thanking organizers and partners Thursday, Horrell said he was grateful there was so much support for a statewide community art project.
"Five minutes before they walked up to our booth at some of these events, they didn't have a clue they'd be participating in something like this," Horrell said of some painters. "And then they'd walk away with a smile on their face. That's amazing."
With 16,116 painters, the Missouri Bicentennial Mural broke the standing Guinness World Record for people working on a painting, which was created in 2017 in Qatar after 13,284 people contributed to a painting of the country's leader.
Horrell said he's kind of given up on trying to get the Guinness Book of World Records to recognize the Missouri Bicentennial Mural as a record-breaker, but he hopes someone can do it.
"We've tried, and we don't know how to do it," he said. "Their response to us is that we need to apply before we attempt to set a record, but that is not what this is all about. This is a record that was set regardless of any other record."
But the artists didn't set out to break a world record, Horrell said, and they accomplished their goal of creating a collaborative piece of art that celebrates Missouri's people and 200 years of history.
"It had nothing to do with the Guinness Book of World Records," he said. "But it happened."
Horrell and Bailey are still engaged with Bicentennial Mural projects, including a collaboration with a Washington, Missouri, artist making 500-piece collectable puzzles of the mural. The artists are also creating mural replicas that measure 22 inches tall and 4 feet wide. The puzzles and replicas are for sale at the Painted Wren Art Gallery.
Beth Pike, a spokesperson for the State Historical Society of Missouri, said the mural dedication was one of the final pieces left over from Missouri's Bicentennial celebrations in 2021. The only remaining project is the Bicentennial quilt, which will be installed in the Missouri Quilt Museum in Hamilton.

Scenes of the unveiling of the Missouri Bicentennial Mural on Thursday, June 23, 2022, at Harry S. Truman State Office Building. (Kate Cassady/News Tribune)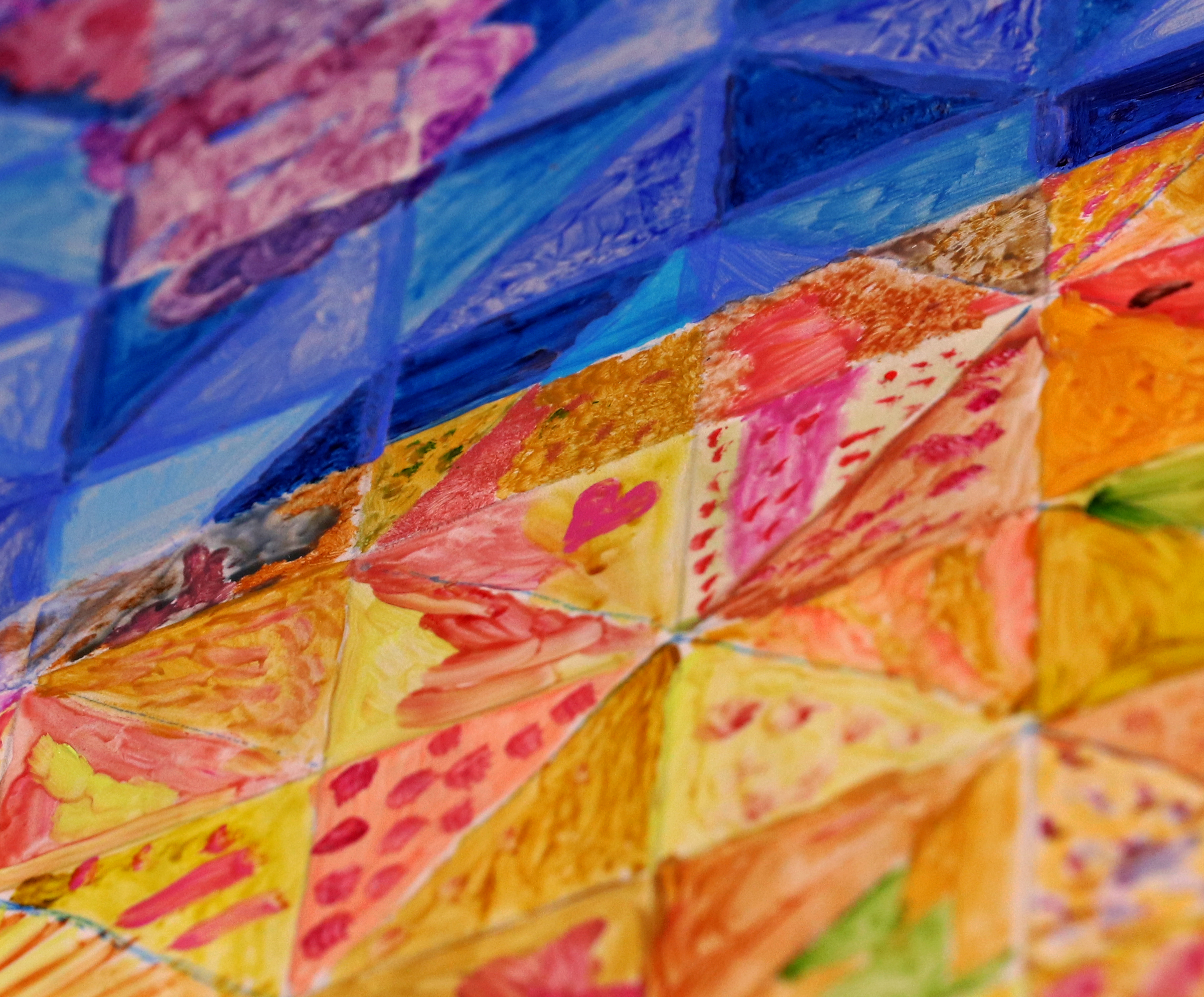 Scenes of the unveiling of the Missouri Bicentennial Mural on Thursday, June 23, 2022, at Harry S. Truman State Office Building. (Kate Cassady/News Tribune)
Aaron Horrell and Barb Bailey left a hidden heart in each state symbol, a tradition they do in the all children books they write.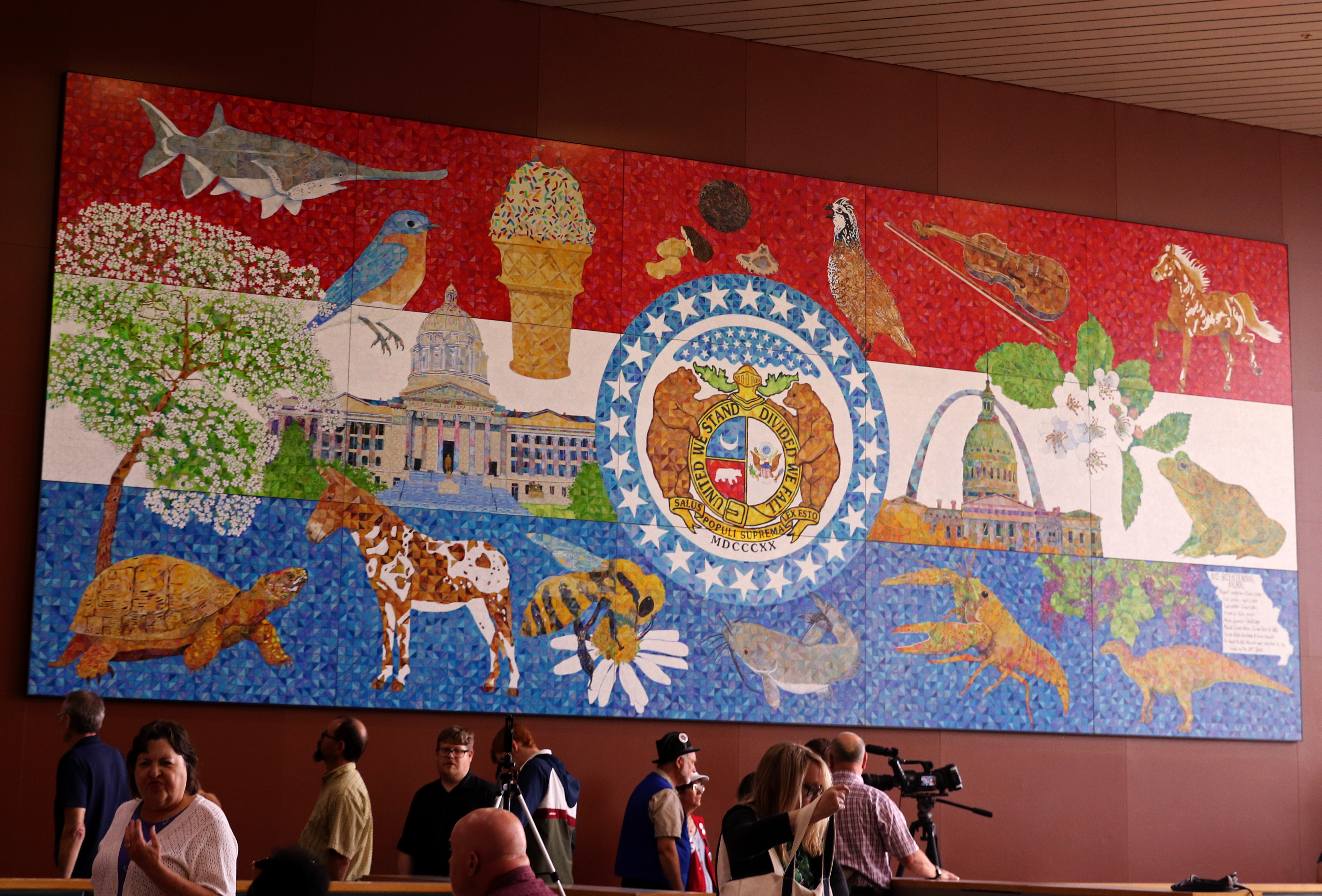 Scenes of the unveiling of the Missouri Bicentennial Mural on Thursday, June 23, 2022, at Harry S. Truman State Office Building. (Kate Cassady/News Tribune)



>>> ad: See the Best Amazon Deals of TODAY! <<<<
Originally Appeared Here