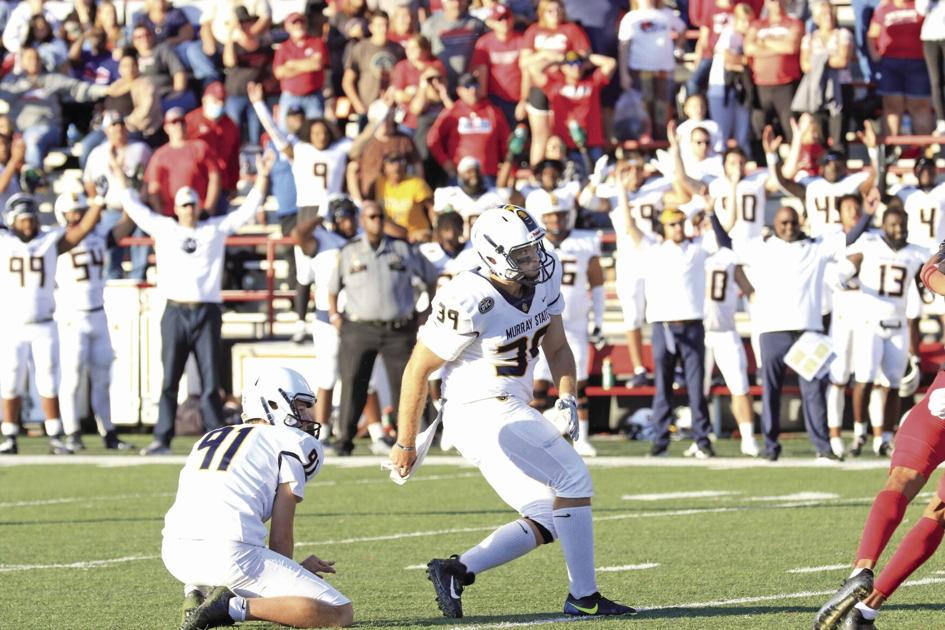 CAPE GIRARDEAU, Mo. — Southeast Missouri has to be getting tired of dealing with Murray State on the football field.
In 2019, the Redhawks forever became part of video clips of all-time college football miracle plays when Malik Honeycutt (more on him later) shockingly returned a kickoff for the winning score at Roy Stewart Stadium in Murray. Then, about seven months ago, the Racers, as heavy underdogs, came to Houck Stadium in Cape Girardeau and upended the Redhawks on their home field.
Seemingly out of contention after SEMO scored three times in the third quarter to seize a two-score lead, the Racers did it to the Redhawks again in Cape. Murray State found a way to score two touchdowns to give itself a chance, then put together a long drive in the final minute that resulted in Aaron Baum's 35-yard field at the final buzzer to give the Racers a stunning 32-31 win. 
"Oh man! This feels great because I'd been telling the guys all day that I had kind of put us in a hole," Baum said, referring to how he had missed an extra-point kick earlier in the game. "So I was kind of waiting all game and hoping that I might get a chance to make things right and it really feels good to kind of fix wrongs.
"I had to get us another win."
It was a sequence of events that allowed the Racers (3-3) to have the chance to leave Cape a winner. First, the defense had to stop SEMO (2-5) on third down with about two minutes left, a stop that came after the Racers had failed to convert a fourth-down play in SEMO territory. That forced a punt, which created the second big  opportunity of the fourth quarter for the afore-mentioned Honeycutt.
On the punt, Honeycutt decided to try catching the Redhawks by surprise by picking up the ball and running after it appeared the ball would roll dead near the Murray State 10. Honeycutt's return gave the Racers possession at its 35 with about a minute left, instead of having to start near its goal line. 
With room to operate, the next part of the sequence commenced. Quarterback D.J. Williams, who started in place of the injured Preston Rice, guided his offense down the field. Williams had two big scrambles for first downs on the last possession, while also connecting on a crucial pass to running back Damonta Witherspoon along the way.
By the time Baum came onto the field with five seconds left, Williams had guided the Racers to the SEMO red zone and did it in only five plays. 
"We felt Baum was actually good from 60," said Murray State Head Coach Dean Hood, giving credit to Williams, who ended the day 15-of-29 for 240 yards and a touchdown. "He is what we knew he was, although you're 100% sure until they get out there, but he can run and he can throw and he can lead a team and run the offense.
"Even when Preston (who missed the game with a shoulder injury), there were moments where we'd try to get him ready for a moment like this and he played phenomenal."
The reason the Racers were in a situation of having to come back in the first place was a disaster of a third quarter that saw SEMO score three touchdowns after trailing 16-10 at halftime. 
After both teams traded the first three possessions of the quarter with little offensive success, the Redhawks put together the go-ahead drive. It ended with  quarterback C.J. Ogbonna's five-yard scoring run with 5:26 left and kicker Kenny Doak's PAT put the Redhawks on top, 17-16.
About two minutes later, after Murray State again could not move the ball, SEMO's lead grew to 24-16 on a 12-yard run by running back Geno Hess. And before the third quarter ended, SEMO scored again, this time on Ogbonna's 26-yard pass to receiver Zack Smith that increased the lead to 31-16.
However, the fourth quarter's arrival seemed to flip a power switch for the Racers. Suddenly, they resembled the team that had dominated the majority of the first half, where it had come back from an early 3-0 deficit and had decided to settle for Baum's point-blank field goal at the halftime buzzer, as opposed to trying for a touchdown on 4th-and-goal from the 1.
Before that, the Racers took a 7-3 lead in the first quarter on Williams' one-yard run before Hess' 10-yard run regained the lead for the Redhawks in the second quarter. From that point, though, the first half belonged to the Racers as they snatched back the lead on Williams' second scoring run, from 12 yards away, and the Racer defense forced the Redhawks into three-and-outs on their final two possessions.
In the final quarter, the Racers' offense, non-existent during the third quarter awakened. Williams found Witherspoon for a 16-yard catch-and-run touchdown play early in the fourth quarter to cut the lead to 31-22. Then, came the first of two big special teams plays for Honeycutt.
After the Redhawks went three and out and had to punt, Honeycutt alertly retrieved the ball after it struck a SEMO player's helmet, meaning it was essentially a free play. Honeycutt took the opportunity and literally ran with it, 52 yards to the end zone to pull Murray State within 31-29 with 11:51 still left in the game.
"In that moment, my team needed a spark," Honeycutt said, describing his latest big return against SEMO. "They punted the ball really high so I called out to my teammates to get away from the ball, but SEMO wasn't aware of where the ball was and it hit one of their players in the head, but they never picked it up.
"We were always taught in practice that we can pick up the ball and anything that happens after that, well, it's going to be our ball (even if he were to fumble). So I knew that, once the ball was on the ground, if I can get it in my hands, then I'm going to make something happen. That play wasn't all me, though, I got some incredible blocking on that play."
"That's really a credit to (Special Teams Coach Chris) Cunningham, who talks to the guys about football IQ and we'd actually had something happen in practice one day and he showed them a clip from a real game. It's kind of a get-out-of-jail-free card," Hood said. 
Hood also said he was proud of his team for fighting through a ton of adversity Saturday as 13 players either were out because of injuries or were seriously limited. That meant that others had to step into those spots.
"The next-man-up attitude of our team was unbelievable. We had 13 other players on our football team show up and play ball and I really don't think I've ever seen that much of a next-man-up mentality with that many guys," he said. "It was just a great team win. With all of the ups and downs and swings of the game, our guys were just phenomenal with going out there and encouraging each other." 
>>> ad: See the Best Amazon Deals of TODAY! <<<<
Originally Appeared Here