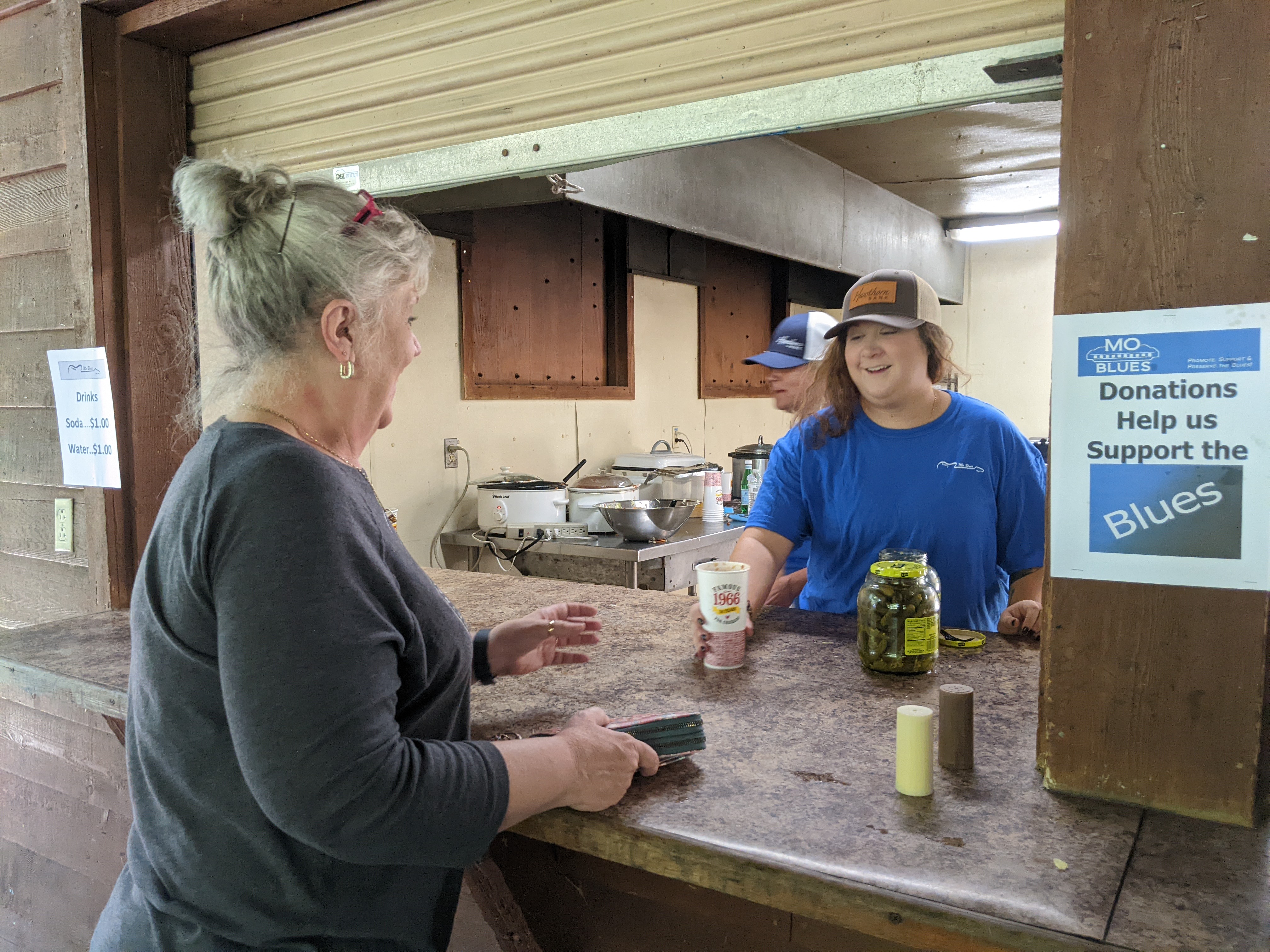 Classic American blues blared from Memorial Park on Sunday afternoon.
And fans showed up in droves.
"This is one of the best crowds we've had ever out here," said Becky Fredrickson, president of MO Blues Association.
"Last year was good, this year is better," she added.
Blues in the Park is a free annual blues festival presented by MO Blues Association, a nonprofit that uses funds generated from the concert to promote Blues music education in classrooms.
Three Jefferson City bands were featured this year: Buddha Blue, Grajmahal and Luke Blue and the Pla-Mors.
Fredrickson said it was difficult to get an official number of attendees with people moving between the festival and Porchest about a block down the street. Porchfest organizers were anticipating a few thousand to attend the community music and arts festival.
The two events were held together by accident last year, but Fredrickson said the pairing has been a win-win.
"We were a little worried last year that we would kind of drown them out but it didn't turn out that way and it helps both of us," she said. "It helps Porchfest and it helps us so it's been great."
MO Blues Association prepared enough food for 200 people, but Fredrickson said about an hour into the show she was expecting to run out of the free BBQ sundaes, which consisted of pulled pork, baked beans and cole slaw, topped with pickles.
"Everybody's saying what a great day it is and the music is good," she said. "And I mean the music is really good."
Megan Boyer, a Jefferson City native, sang with performer Luke Blue and the Pla-Mors.
Boyer said it was her first gig since November of 2019, shortly before the COVID-19 pandemic took off. It was nice to be back performing in a familiar location, she said.
"This park is always fun to play in because my grandma lived down the street and family members got married in the church across the street," she said. "We spent a lot of time here, so it's always kind of fun to come here."
Boyer has played Blues in the Park a few times before with the Megan Boyer Band, which was around for about 13 years. She said the live show was previously in the middle of summer, but the cooler fall environment is better.
Pairing the show with Porchfest likely brought many people who wouldn't seek out a blues festival, Boyer said.
"They may hear the music and come over here," she said. "I think that's really neat."
Mike Siemens traveled to the Capital City from Rolla for the live blues concert.
Siemens said he and his wife attend every year just to support the blues. It's always been a great program that benefits a good cause, he said.
"I've just loved it for years," he said about the blues. "I've been listening since I was young. I came from Wichita, (Kansas), and they had a great blues society there, so I've just been a fan of it for years."
Live blues music is rare to come by these days, Siemens said.
Vicky Elwood of Jefferson City agreed. She has been going to the Blues in the Park concert for the past five years or so. She said Sunday was the perfect day for it, so she brought her husband and a few lawn chairs to Memorial Park.
"I think a lot of the blues stuff kind of appeals to people's emotions and feelings, and it just has a beat to it that makes you want to just sway and move your feet," she said.
That fun expression of emotion is what makes the blues an effective educational outlet as well, Elwood said.
The Blues in the Schools brings a music educator to area schools to provide a lesson in the classic American sound. The program has been suspended since the start of the COVID-19 pandemic, MO Blues Association has plans to resume it this year.
Fredrickson said everyone should be exposed to a variety of music, but especially blues because of its deep American ties.
"A lot of times it's the first exposure a lot of our kids have had to blues music," Fredrickson explained. "And the roots of blues music are deeply rooted in our American history."
Boyer, who has been involved with some of the teaching Blues in the Schools provides, said the lessons often involve teaching the form and basic music theory behind the blues.
"One of the things I like about it is that, in theory, it is 12 bars, three chords, but it really comes down to the story that you tell and how you tell that story with voice and music," Boyer said. "I think that's one of the really neat things they do with the kids in the Blues in Schools program."
Elwood said it's also a good outlet for children.
"Over the years I've seen where they kind of get rid of things in schools that they don't think are important, whether it's physical education or music, but you need stuff that appeals to the person inside of you, not just reading, writing and arithmetic," she said. "There are more ways to express yourself with music."
"It's a way to communicate," Elwood continued. "If you're not able to talk to somebody, sometimes you can do it through music."
Related:
Porchfest brings thousands to Forest Hill neighborhood
>>> ad: See the Best Amazon Deals of TODAY! <<<<
Originally Appeared Here