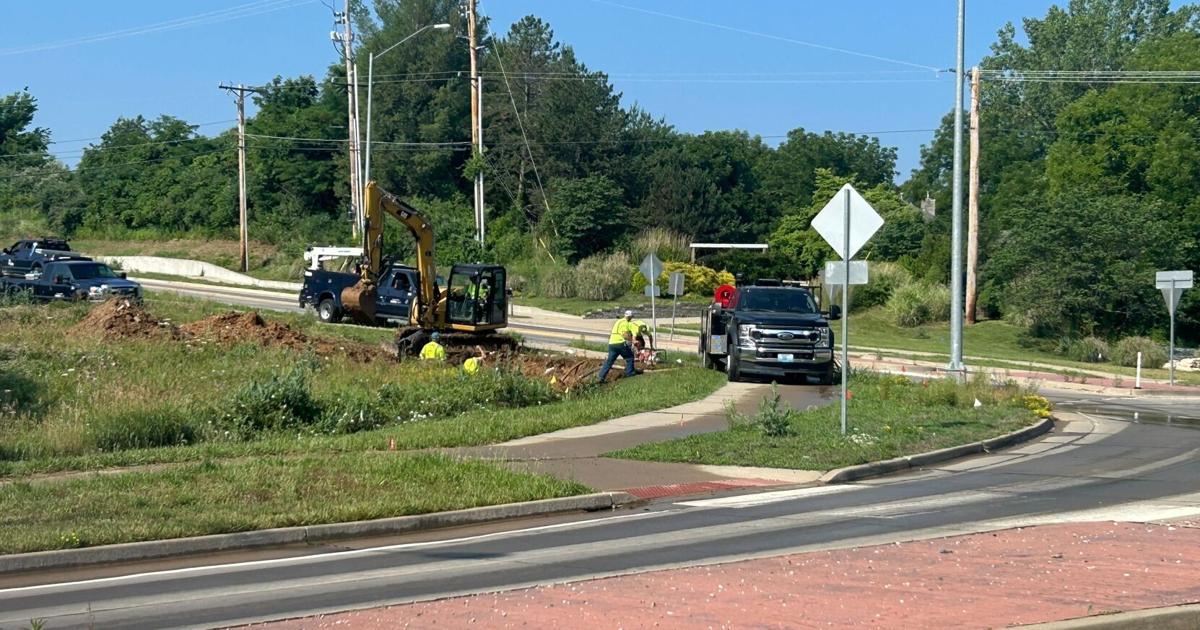 COLUMBIA — The COMO Safe Water Coalition is calling for more protection and transparency of the city's infrastructure. The coalition claims it took the city over six hours to notify southwest Columbia residents of a main break and boil advisory in the area.
Thank you for reading this post, don't forget to subscribe!
A boil advisory was issued for southwestern subdivisions early Tuesday morning after a main break occurred at the roundabout located on Vawter School Road and Scott Boulevard Monday night.
Residents emailed KOMU 8 between midnight and 1 a.m. Tuesday to share news about the break and express their frustration with the city.
"After numerous attempts to use the 24-hour reporting service, I finally got someone to answer," one resident said. "The only explanation I received was that it was an 'area wide issue' and they were not sure what was causing it. The outage map showed zero incidents."
Another resident said, "the outage map shows nothing, but there are 30 to 60 streets reporting [no water] right now." 
Neighborhoods affected include Thornbrook, Wyndham, Creek's Edge, Bradbury Estates and parts of Copperstone.  
Brandon Renaud, the Columbia Utility Services manager, said this specific main break and other recent ones are a result of changes in the soil.
"Recently it's been very hot and very dry, causing the soil to shrink and possibly pull away from those water pipes," he said. "When we see a lot of rain that like we saw this last weekend, the soil shifts and it changes, causing the lining of the pipes to shift just so slightly and that can cause the pipes to actually break, causing a water main break."
Despite the city fixing the break Tuesday morning, some residents in the area aren't just upset about the boil advisory, but the city's delayed response to the situation. 
According to Julie Ryan, a Thornbrook resident and co-founder of the COMO Safe Water Coalition, even though the break was reported around midnight Tuesday, the city did not send out an alert until early Tuesday morning.
"The text message I got from the alert system was about 6:40 a.m. this morning," Ryan said. "The problem is that there should have been notification that went out alongside that, when the outage occurred, to make sure people understood that there was a boil advisory in place because of that outage."
Ryan said the importance of notifying people is not to prepare for the loss of water but also for possible infections.
"Any time that we lose pressure that we have something like this, there is the potential that contamination can occur," Ryan said. "There are medically fragile individuals in the community, some people that I would be most concerned about."
Success! An email has been sent to with a link to confirm list signup.
Error! There was an error processing your request.
Renaud said the city is working on preventing future breaks.
"We have water infrastructure projects that we're always working on," Renaud said. "We always keep track of the age of our pipes."
Ryan said she has been dealing with boil advisories in her neighborhood since 2016. She claims the city is "neglecting the real solution to the issue," which she believes is building a new water tower for the southwest area and creating a comprehensive irrigation plan. 
"Not just here in the southwest part of town, but all over Columbia," Ryan said. "… We don't do a good job as a city of making sure that there's great irrigation plans in place." 
Ryan said voters approved the construction of a water tower in 2018.
Regarding the delay of notification, Renaud said the city's first priority is fixing the problem.
"Restoring that water supply and ensuring we do so in a safe and healthy manner is our number one priority," he said.
Renaud said he understands residents' frustrations and said it's not any easier for the city either.
"We try to keep open lines of communication with those customers," Renaud said. "We try to make ourselves readily available."
The city said anyone living in the affected areas should:
Boil water for three minutes prior to using it for cooking or drinking.
Do not consume ice from an automatic ice maker. Remake ice with water that has been boiled for three minutes.
Disinfect affected dishes and food contact surfaces by immersing for one minute in clean tap water that contains one teaspoon of unscented bleach per gallon of water.
The city said the water pressure for the affected area has returned to normal levels, but the boil water advisory will not expire until 2 p.m. June 21.
>>> ad: See the Best Amazon Deals of TODAY! <<<<
Originally Appeared Here