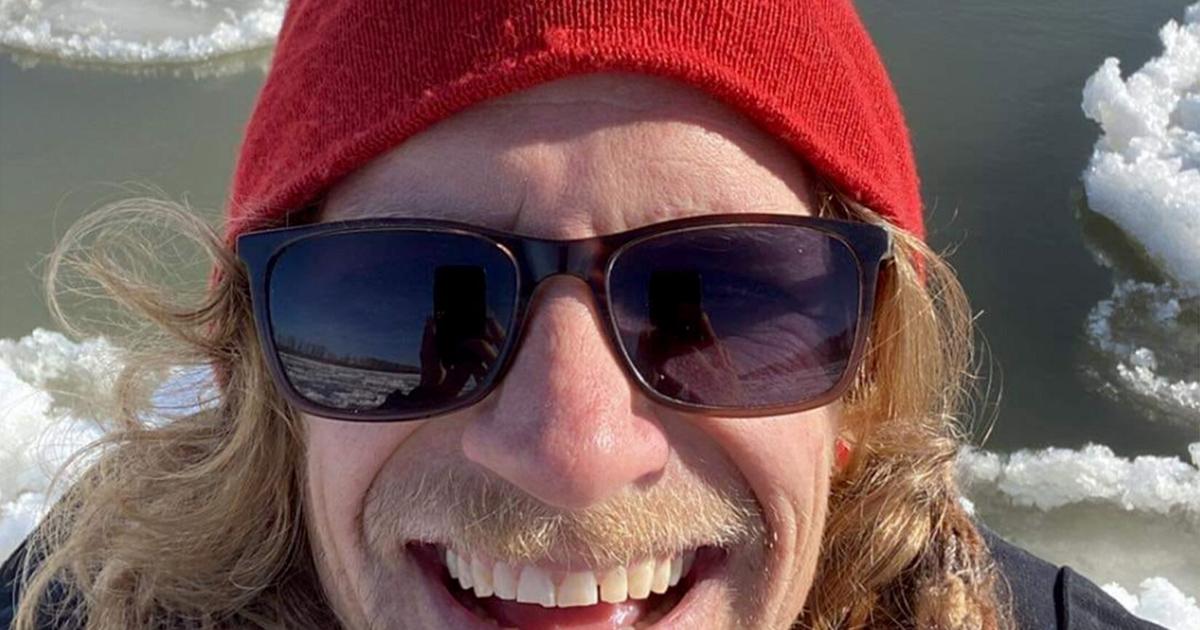 WASHINGTON, Mo. — Once a month, Perry Whitaker takes a 110-mile kayak pilgrimage along the Mississippi River from his St. Louis home to Cape Girardeau.
His paddle ticks through the water like a metronome for hours on end.
Aaron Duenke shot this selfie of him riding on a piece of ice floating down the Missouri River near Washington, Mo., and sent it to friends shortly before he went missing.


Submitted Family Photo


"That's when I get my thinking done," said Whitaker. In 2021, he captained a team for the Mississippi's entire 2,300-mile length.
Like other river enthusiasts, Whitaker relishes the solitude of the water and the camaraderie it promotes. The more people who are invested in the nation's waterways, the more they will thrive as natural habitats, economic engines and recreational outlets, local outdoor experts say.
So a fellow paddler's disappearance last month under unusual circumstances was cause for grief — but also frustration and unease.
People are also reading…
"This was a completely avoidable tragedy," said Roo Yawitz, owner of Big Muddy Adventures, a guide shop in the Central West End that hosts day trips and overnight excursions on the Mississippi and Missouri rivers.
On the afternoon of Dec. 27, Whitaker — a well-known river authority who serves on half a dozen regional conservation and water recreation boards — was inundated with texts. The Washington police department phoned him. A man is floating on an ice floe, they said. Few had seen anything like it.
According to family, 34-year-old Aaron Duenke of Franklin County had set out on the Missouri River near Dundee, a few miles west of Washington. Social media posts show Duenke riding atop a frozen disc, holding a paddle. It was a stunt he had done before, his family said.
Passersby called police. When officers tracked him down, Duenke told them he was fine, said Washington police Lt. Steve Sitzes. Ice floating is not illegal, so they let him go on his way.
"I have been here 30 years and have not seen this activity," Sitzes said a couple of days later.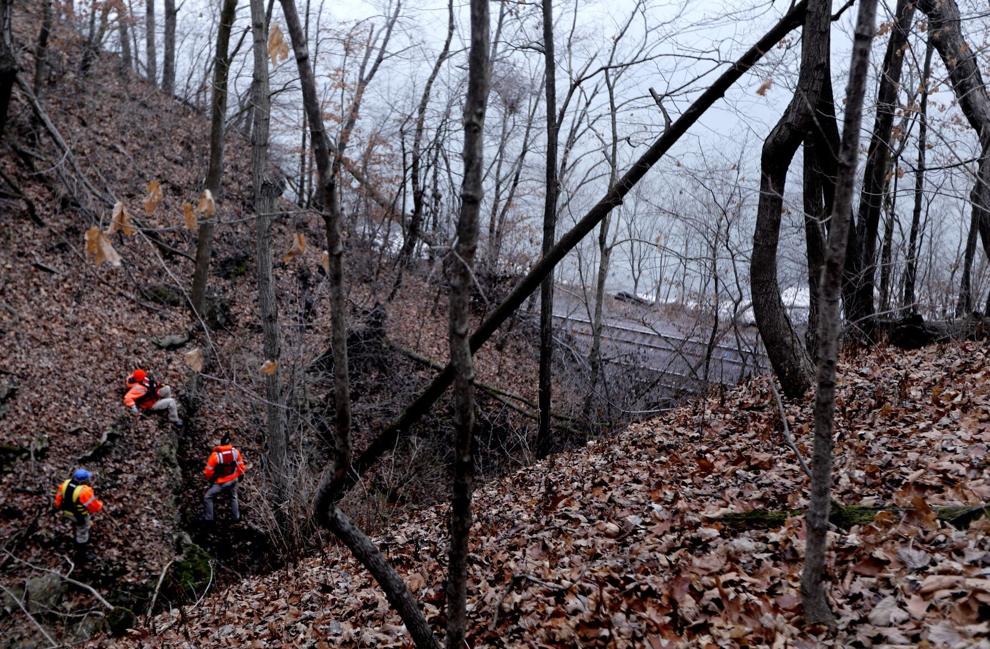 Members of the Eureka Volunteer Fire Department descend rugged terrain to reach the Missouri River near Riverbend Chapel in Washington, Mo. on Friday, Dec. 30, 2022, to search for Aaron Duenke. Duenke disappeared earlier this week while floating on a chuck of ice in the Missouri River east of Washington, Missouri. He was last heard from at about 3:30 p.m. Tuesday. Photo by Laurie Skrivan, lskrivan@post-dispatch.com


Laurie Skrivan


Duenke failed to arrive at a meetup point that afternoon at Hinckley Bend, between Washington and Labadie. A Facebook page, Aaron Duenke Search Efforts, helped coordinate volunteer searchers and generated 5,000 followers. First responders from more than a dozen agencies combed the muddy banks, flew helicopters and piloted heat-seeking drones above the Missouri's murky waters.
But as hours stretched into days, hope dimmed that Duenke could have survived.
Respect for the water
The younger of two brothers, Duenke grew up around west St. Louis County and St. Charles County, graduating from Francis Howell High School. His quick smile and easygoing nature pulled others to him like a magnet, said Becky Boucher, a family friend who knew Duenke since he was a baby.
"He had a passion for people," Boucher said. "He was always empathetic, even at a young age."
One of Duenke's family members declined comment for this story, and another could not be reached. 
Duenke moved to Arizona for several years, and when he returned, he connected with like-minded folks in the river community. The water became his second home, and he passed his passion on to his two children, 10-year-old Lucas and 7-year-old Lola.
"He wanted them to enjoy life and respect nature," said Boucher.
Participation in water sports spiked during the pandemic, as did drownings. Deaths in Missouri state waters jumped to 61 in 2021, the most recent year for which data is available, from an annual average of 35 during the five years prior. Swimming and boating accidents account for most of those deaths, said Cpl. Logan Bolton, a Missouri Highway Patrol spokesman.
But not all of them: Kenny Lee Loudermilk of O'Fallon, Missouri, was paragliding in October above the Missouri River near Washington when he crashed into the water and went under. His body has not been found.
In May, Caleb Gage of Ballwin drowned after his canoe capsized on the Missouri near Howell Island. Lawrence Krumrey of Chesterfield died in July after his kayak flipped on the Meramec River in Franklin County. Neither man was wearing a lifejacket, according to the highway patrol.
Environmental organizations and even outdoor-equipment stores devote significant resources to instilling in boaters and paddlers a healthy respect for the vagaries of natural waterways.
Whitaker, who teaches classes through the Alpine Shop in Kirkwood, takes out hundreds of children and adults each year in kayaks, canoes and stand-up paddleboards. He has led Boy Scouts on his Cape Girardeau trek.
The biggest mistake, Whitaker said, is overestimating one's abilities. Rivers do not defer to anyone.
"That's what I try to impress upon people," he said.
'No good ice'
Missouri River Relief, based in Columbia, promotes stewardship of the river and its watershed through cleanups, workshops and field trips. Its marquee event is the MR340, an annual nonstop race from Kansas City to St. Charles.
Kevin Tosie, the nonprofit's operations manager, said the organization was saddened by the loss of Duenke, a repeat MR340 finisher.
Classes on river safety start with the same rule, Tosie said: Wear a personal flotation device at all times. Weather and water conditions are nearly as critical. Paddling is not recommended if there is strong wind, thunderstorms or ice.
Chunks of ice, which were prevalent during Duenke's excursion, impede navigation. They can cause watercrafts to flip and block the takeouts where paddlers can exit to dry land.
Hypothermia is also a concern. Water conducts heat away from the body 25 times faster than air, according to the Centers for Disease Control and Prevention; hypothermia can set in in water as warm as 70 degrees. On the day Duenke disappeared, the surface water temperature was 32.
Despite frigid snaps, like the one that plunged lows below zero just before Christmas, Missouri is seldom consistently cold enough to produce ice that is sufficient for sports.
"Thawing and unthawing takes away thickness and clarity," said Jim Casey, chief of the Boles Fire Protection District. "There's no good ice in the state of Missouri."
His firefighters were among those on Dec. 27 scouring the river banks and nearby farm fields into the night before the search was turned over to the highway patrol's water division.
Area first responders said they had not encountered ice surfers themselves but knew of some social media posts and were wary that others would try it. On TikTok, videos of ice surfing are covered with a safety warning.
"It concerns me that people do something for a thrill," said Ron MacKnight, chief of the Wright City Fire Protection District. "We always worry about copycats."
Wright City had been called in last month with their thermal-imagery drones, in a needle-in-a-haystack effort to detect a speck of heat in the dark expanse.
Thrill-seeking was part of Duenke's nature, said Shane Camden, owner of Paddle Stop New Haven, a guide shop that served as the command post for volunteer searchers.
Duenke sometimes worked there, building paddleboards or helping at the adjoining brewery. But his heart was on the water, Camden said.
As a river booster, Camden worries that Duenke's disappearance could cast a shadow for prospective paddlers.
"Aaron chose to operate outside the guidelines," he said. "No one in the river community would recommend this. But the river is not inherently dangerous."
As a friend, Camden wishes for some closure. Duenke's paddleboard will soon hang in a place of honor on the brewery wall. Friends are gathering Saturday morning for a group photo at the Weldon Spring Conservation Area boat access. A GoFundMe has been set up to support Duenke's children.
"The wind is out of everyone's sails," said Camden. "Everyone knows he's gone."
Winter weather can bring cold temperatures, power failure, loss of communication services, and slick, icy roads. These are a few tips that can keep you safe.
Be the first to know
Get local news delivered to your inbox!
>>> ad: See the Best Amazon Deals of TODAY! <<<<
Originally Appeared Here