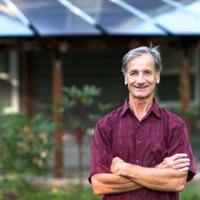 As it turns out, you didn't have to go to the theater this summer to see the blockbuster thriller of 2022 — it was right outside your door.
Climate change has become the biggest and scariest movie in town, showing up in heat waves, forest fires, floods and politics.
Just like in any Hollywood thriller, we have antagonists (the bad guys) who make the situation worse, and protagonists (the good guys) who are trying to make it better.
Take the Supreme Court, for instance, which announced this summer that the EPA cannot restrict carbon dioxide emissions from power plants because, essentially, climate change is too big an issue for the EPA and Congress must specifically legislate such authority.
The ruling was a major victory for fossil fuel interests, ensuring that the only carbon reduction actions by the EPA will be indirect and less effective, with a consequence of further heating the climate.
Nor is the Supreme Court alone in preventing action on climate change. We could also add many politicians to that list, many running for office in Jefferson City and Washington, D.C.
Eric Schmitt, who just won the Republican nomination to run for U.S. Senate, said in a June Facebook post: "Climate Alarmism is a Ponzi scheme meant to redistribute wealth away from working folks and to elite globalists."
Such sentiment, unfortunately, is prevalent throughout Show-Me politics and in many other states.
Then we have the classic twists of plot, where a villain turns out to be not so bad after all. Joe Manchin, for instance, spent this past year dashing all hopes for passage of President Biden's "Build Back Better" bill.
Then he surprised almost everyone by publicly supporting the new "Inflation Reduction Act" bill, which appears to be different in name only. Offering billions of dollars for climate action, it represents a ray of hope should it get passed in time.
With our federal government possibly able to provide financial incentives, but with regulatory powers diminished and a state government run by climate change antagonists, Columbia is pretty much left to fight climate change with local actions.
To paraphrase the age-old saying that "all politics is local," one could say that "all climate action is local."
Columbia could be the perfect community to take leadership on climate action. We have an educated community that is financially sound and even owns its own utility, Columbia Water and Light.
There are also a growing number of climate-interested citizens, as evidenced by public discussion on renewable energy at the July 18 Columbia City Council meeting.
Unfortunately, the group wanting 100% renewables by 2030 assumes that our first and best answer to climate change is to require the utility to purchase power from a solar or wind farm, which essentially ignores where it is produced.
Another path that seems more reasonable is to push for local solar power, produced on rooftops in Columbia. The energy potential of rooftop solar in Columbia is enormous.
According to Google Project Sunroof (sunroof.withgoogle.com), which can provide data for entire communities, Columbia's roof inventory could provide almost 800,000 megawatt hours per year. That is equivalent to 60% of Water and Light's annual electrical needs.
Plus, this summer proved on a personal basis that rooftop solar works. Through the heat wave in July, with temperatures above 100, the solar panels my wife and I put on our roof six years ago finally got their heat test.
As expected (and now proved), rooftop solar produces abundantly even throughout the hottest days. Through the July heat wave, and again this past week, our solar system produced more electricity than our all-electric house needed.
It actually produced more than we needed, sending more electricity back to the utility than we used, in a 2-to-1 ratio.
So if it can work on our 1950s ranch style-house, why not on others? The fact is it can, or at least could, work. Except it seems that the utility, and perhaps many others, are stuck on the 1950s idea that the only business model for utilities is to produce, distribute and sell electricity to customers.
That model is not based on distributed power, which is where thousands of small power production sites provide power throughout the utility system in a decentralized fashion.
Utilities have resisted this notion of distributed power because of the loss of sales and unbalanced budgets. Yet such distributed power has the potential to not only solve the emissions problem but also, at least in the near term, the infrastructure issues associated with pushing power around and throughout the community, our transmission issues.
There are ways in which utilities can thrive even with customers using less electricity, but it involves financing infrastructure improvements at customers' sites rather than building transmission lines and power plants.
Of course, rooftop solar is only one of a mix of renewable resources that would be needed. Energy efficiency, smart technology and more would complement rooftop solar in a holistic and comprehensive manner.
Rooftop solar is what needs a push now. Its current contribution annually in Columbia is less than 1%, woefully underserving its potential. The nature of rooftop solar is that it takes jobs and manpower to install, which means time.
To see that potential realized, we should be acting now and ramping up installation production over the rest of this decade. Ideally, this deployment could be ready to displace the need for coal contracts as they expire.
It was announced at this week's Water and Light Board meeting that the first contract, with the Sikeston Board of Public Utilities, may expire as early as 2027.
Done correctly, rooftop solar could become a community-wide phenomenon with participation across all income levels while ensuring the financial viability of the utility as well.
The utility just needs to redirect investments onto Columbia households rather than remote energy farms. Perhaps that's how this blockbuster could finally conclude: A family shaking hands and talking with their solar installer and utility technician, all looking up at a new solar array atop their roof, enjoying the moment.
We could even give this blockbuster a name. How about, "Please DO Look Up."
Jay Hasheider is an MU graduate and has done energy work with the Peace Corps, State of Missouri and City of Columbia. He currently serves on Columbia's Water and Light Board and writes a monthly column for the Missourian.

About opinions in the Missourian: The Missourian's Opinion section is a public forum for the discussion of ideas. The views presented in this piece are those of the author and do not necessarily reflect the views of the Missourian or the University of Missouri. If you would like to contribute to the Opinion page with a response or an original topic of your own, visit our submission form.

>>> ad: See the Best Amazon Deals of TODAY! <<<<
Originally Appeared Here