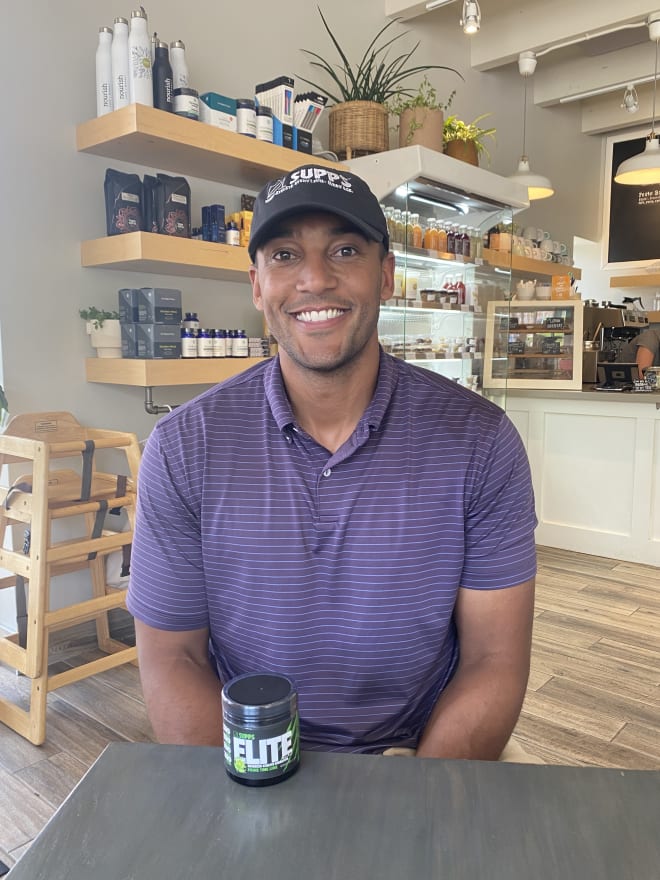 COLUMBIA, MO 一 Ten years removed from leading Missouri to a Southeastern Conference Championship appearance no one outside his own locker room thought possible, former Mizzou quarterback (2010-2013) James Franklin walks through the front door of the Nourish Café & Market wearing a purple polo shirt with light blue stripes, tan shorts, black shoes and a black hat that says "D1 SUPPS," the name of his advanced hydration drink company.
Thank you for reading this post, don't forget to subscribe!
As the Tigers enter their 12th season in the league in 2023, Franklin harkens back to what those four months in 2013 meant for Mizzou football as he dives into his Columbia Scramble, local eggs, veggies, pesto and local goat cheese in a bowl.
"I think it was a realization for a lot of people like okay, they can play and they can do well," Franklin said.
Missouri had not only won the SEC East but was 15 minutes away from clinching the SEC title and a berth in the BCS National Championship.
But to understand the importance of the 2013 season, it's essential to remember the humble beginnings of the Tigers' first year in the SEC in 2012.
Even though Mizzou went 48-19 with three Big 12 North titles in the five seasons prior to joining the SEC, not many people outside of Missouri expected them to be big-time players in the league 一 especially not right away.
There was some posturing from Mizzou when it made the move to the SEC with more of an emphasis on what the league was than who Mizzou was at the time.
"Coach's (Gary Pinkel) whole thing at that time was we don't change for anyone and we do what we do and what we do works," former Mizzou offensive coordinator (2009-15) and current Southern California offensive coordinator Josh Henson said. "And when we got to the SEC at that point we made a big emphasis on you've got to be more physical and our focus was more about the other team than it was about us. … We talked about that as a staff and if we did it all over again it'd be, 'Hey guys, we're going to be successful in this league, and we don't have to change.'"
Turns out the focus on the league was somewhat the case in year one, with the team finishing the season 5-7 and with a 2-6 conference record.
Not only was the focus off but there was an injury bug that followed the team throughout the year.
Franklin injured his shoulder in spring ball that year and then suffered a shoulder strain versus Georgia in week two.
He missed the week three game versus Arizona State. Then, a strained MCL sidelined him for week seven versus No. 1 Alabama before he missed the regular-season finale against No. 9 Texas A&M after being knocked out of the prior game versus Syracuse.
Running back Henry Josey suffered a horrific knee injury in November 2011 that sidelined him for all of 2012.
The offensive line maybe had the injury bug the worse with starting left guard Travis Ruth tearing his left triceps and backup right tackle Taylor Chappell tearing his left ACL in early August.
Guard Jack Meiners suffered a leg injury a week before the season opener. Offensive tackle Elvis Fisher injured his right MCL versus Georgia, and left tackle Justin Britt, who had a broken left foot in the offseason, suffered a torn ACL in week 10 against No. 8 Florida.
"It was tough because we started out strong but it's hard to perform when you're not healthy," Franklin said. "We had serious enough injuries where guys were missing and we weren't able to play. It's hard to build chemistry and then you start second-guessing everything."
A losing record wasn't what the team had hoped for but what came from it was something no one else could see or expect for the next year: confidence.
"The biggest thing was if we could just stay healthy 一 but then I think something that helped us out was whenever most of us were (healthy) we realized we can play and compete with them," Franklin said. "Going into it having the mindset of it being the SEC and not the Big 12 一 I guess you can call it maybe those first-time butterflies or jitters out of the way.
"But it was really helpful. I mean obviously, we didn't want to have a losing season, but we did learn a lot that first year and it's something we tried to apply the following year."
Unsung hero
Pat Ivey was entering his ninth season as the strength and conditioning coach for the Tigers in 2012, and like the rest of the team, he and his staff had put a little too much emphasis on the SEC.
"We did our analysis before we went into the SEC and we looked at the average proposition," Ivey said. "Those numbers were speed, strength, quickness, explosiveness, power and jumping. We looked at it by Big 12, SEC and then our players that went to the NFL Combine because we had players go to the combine in every category."
What Ivey and his staff found was that Mizzou players were consistently doing better than the Big 12, SEC and combine averages.
There were a few differences though, such as the cornerbacks in the SEC being heavier but a little shorter than those of the Big 12. Or the offensive linemen in the SEC being about 10 pounds heavier and an inch taller than in the Big 12.
"So, we looked at all of those stats across the board by position and we felt really good about going into the SEC, but there were some questions we had," Ivey said. "Were we doing enough? So, with that, we turned up some of the intensity and volume of what we were doing in practice and conditioning. And that was a mistake in my opinion."
So entering the 2013 offseason, Mizzou dialed back on the physical workouts and added more mental conditioning.
That's when the seeds for a special season were planted.
"I can seriously say it was (an internal feeling that 2013 would be a successful season) because it started with coach Gary Pinkel and all of the assistant coaches," former Missouri EDGE (2012-14) and Pittsburg Steelers EDGE Markus Golden said. "That offseason we worked hard. Pat Ivey he pushed us every day and we came together as a team because we wanted to represent the University of Missouri, show that we can play in the SEC."
A couple of the team's primary techniques that Ivey implemented were the five skills of focus that they called "whistle to the snap," the four pillars of emotional stability (strength, resilience, responsiveness and flexibility) and accountability.
"Whistle to the snap" encapsulated the roughly 20-30 seconds from the end of a play to the start of the next.
"The first skill of focus was time orientation," Ivey said. "So being present. Not focused on the past or the future, but being in the moment because that's where performance happens. The second skill was positive self-talk and how the brain works. The third skill we taught was composure, which was teaching breathing and controlling arousal levels in terms of intensity.
"The fourth skill we taught them was concentration. So, we taught them how to eliminate distractions. When you do that, all that's left is concentration. Then, the fifth skill we taught them was confidence, and with confidence, it's about being present and then choosing to be competent."
These new mental conditioning techniques along with the talent the team had on hand painted a much clearer picture of what this team wanted to be in year two.
"I think that's what helped us out because we were with our training and strength staff coaches way more than our football coaches," Franklin said. "He really helped our mental game out and I think that's something he doesn't get a lot of credit for because he's a strength coach, but just the stuff that he gave us was life-changing."
In 2013, Ivey was working toward his doctorate in sports psychology, so he was having to juggle that and his job in what he called "probably the hardest thing" he's ever done.
But he was able to teach the things he learned to not only the players but the coaching staff as well and had the backing of Pinkel, who was also eager to learn and implement Ivey's new teachings.
"Coach Pinkel was unbelievably supportive," Ivey said. "There were times I had to be late to practice or leave the lift early and the staff and players picked up the slack. The things I was learning I was sharing with everybody. I was sharing them with Coach Pinkel sending text messages at 4:30 or 5 a.m, and he was learning the stuff so fast.
"He was implementing things so fast I got to a point where I was like I better be careful what I'm sharing with him because he is implementing and learning 一 he was awesome. He was so hungry to learn and grow as well."
By year's end, Ivey would earn his doctorate and be named the National Strength and Conditioning Coach of the Year and became one of many unsung heroes during that season.
"In my opinion, it was clear as day who should always be remembered for that season 一 it's Pat Ivey and the amount of work that he put in," former Mizzou wide receiver (2010-14) Bud Sasser said. "The things he was able to show us while earning his doctorate 一 killing it. It was unreal to see him work the way he worked and adapt and adjust."
The season: First Five
Missouri started the 2013 campaign with four straight non-conference games. The Tigers took care of Murray State and Toledo in weeks one and two, followed by a road win against Indiana in week three and another home victory versus Arkansas State.
In week five, Mizzou would open up conference play against Vanderbilt, one of the six SEC teams to hand Mizzou a loss a year before.
Mizzou went 5-0, matching its win total from the prior season, and dominated every game during this stretch.
The Tigers would outscore their opponents by a combined 233-112 and averaged 543.8 total yards per game. The defense did allow 412.4 yards per game, but also helped Mizzou win the turnover battle 11-6.
To folks outside of the program, these were nondescript wins that were counted as wins before the season started. To the team, they felt like these were games to get the kinks out.
"Those games are actually really important because the final score may not say so as far as what we thought was important," Sasser said. "Even that first game we actually didn't come out of the gate hot."
To start the game, Sasser caught two passes on the first drive and fumbled leading to the Racers getting a 7-0 lead.
Mizzou would score a rushing touchdown on its next drive to even the score, Murray State would miss a field goal, Missouri would score another touchdown to go up 13-7 (blocked PAT) and the Racers would score again to go up 14-13 to end the first quarter.
"We knew that we had a great team," Sasser said. "It was just like everybody was still calm. It was great to have James (Franklin) kind of step in and say, 'Hey this drive 一 we know what we have and can do. We know how good we are. It's time to go ahead and turn it on. Let's go get seven points this drive, and we'll just put our foot on the gas from here.'
"Then, we did it the very next drive. … We came back off the field like, 'Yeah we're going to be pretty good.' We were going to be pretty good because we had command of the game and could do what we wanted at will. If we wanted to run it for the next half, we could run it for the next half. If we wanted to throw it for the next half, we could throw it for the next half."
To Franklin, the first set of games was a way for the team to establish an even-keeled approach and taught them not to overlook their opponents as they sought to bounce back in year two in the league.
"We wanted to win every game that we played," Franklin said. "So, those non-conference games you could argue some are tougher, some are easier or most are easier, some people would say. But it's really a big challenge because that's typically when the losses happen. When an underdog beats the big dog. … So for us, I think we just learned not to overlook those games 一 especially because of the previous year 一 and to focus on just winning each game that we played."
Turning point: The double pass against Georgia
The Tigers' first true test of that 2013 campaign was an early afternoon road game against No. 7 Georgia in week six, and they were feeling confident.
Entering the game, Mizzou's lowest margin of victory was its 15-point win over Toledo, and Franklin was one of the league leaders in total touchdowns with 15 and most importantly the team had avoided any major injuries to that point.
"I was feeling really good," Franklin said. "I was thinking we finally had a healthy season. I'm doing well and staying healthy. Guys are excited. When you're playing well like that, it's very easy to have that confidence in the team to where you don't feel all the pressure is on you. So, yeah going into that we felt we were coming in off of a good win over Vanderbilt."
The Tigers' momentum from the first five games had followed them through the first half against Georgia with a 28-10 lead after two quarters.
Then the Bulldogs battled back with 16 unanswered on their own before Franklin would go down with the team's first major injury of the season with less than 11 minutes left in the fourth quarter.
"I dropped back, didn't see anything," Franklin recalled. "Scrambled off to the side and I threw it away. I took three steps and then a linebacker and defensive lineman they picked me up twice and I landed on my (right) shoulder. … I heard my shoulder snap and I was like man is that 一 I know my labrum was a year before but was that? I don't know, something felt off."
On the way back to the huddle, Franklin was shaking his arm, trying to pop his shoulder back into place.
Missouri would then call a run-pass-option (RPO) with the pass designed to go to the flat to Josey if he was open. He was open, but Franklin immediately took off soon as he received the snap.
"So, I went to throw the swing, and I couldn't lift my arm," Franklin said. "Then, I went to go run, and it was like my right arm was still. I couldn't move it. I had about 30 yards of open field in front of me, but I only went about four yards and ran straight to the sideline. And I just remembered (thinking) something's wrong."
In to replace Franklin was redshirt freshman Maty Mauk, who had appeared in two games earlier in that season, having completed 2-of-3 passes for 18 yards. Despite his inexperience and Franklin's injury, the Tigers weren't worried about having to play him.
"Maty loved to play ball and compete," Henson said. "He was the kind of guy that had no fear. So when Maty came into the game, he didn't have any fear of anything, including interceptions. So, we had to make sure he could do the thing. He executed, but I loved his spirit when he came into the game.
"He came in with the attitude of helping the team win the game, and he didn't come in and get nervous and kind of draw back within himself. He came in, let it all hang out and went after it."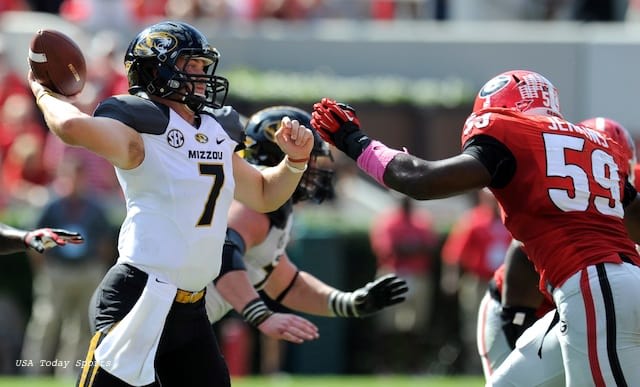 Three plays after Mauk took over, one of the signature plays in program history happened with the starting quarterback sitting in the locker room as he prepared for his X-ray.
On second down with the ball at Georgia's 40-yard line, Mauk lined up in an empty set, quads shotgun formation with one receiver to his left and four to his right.
He received the snap and immediately passed the ball to Sasser in the flat, who uncorked a 40-yard pass to receiver L'Damian Washington for a touchdown to put Mizzou up 34-26.
"There were TVs 一 I didn't get to see the play because I was having to get set up for the X-ray," Franklin said. "But I can hear the crowd. I mean just our little Mizzou section and it was exciting."
It wasn't only exciting because it put the Tigers up eight down the stretch, but this wasn't a play that was practiced throughout the season that the team was waiting to use. It was a play that was installed that week heading into the game.
"We had not practiced that play to tell you the truth hardly at all that year," Henson said. "We really focused a lot on executing our base scheme. (Associate head coach) Andy Hill before that game was like, 'Coach, to win this game on the road I feel like we're going to have to have a couple of things that are in our playbook that will help us maybe make a play when we need it.'"
The play is more impressive because Sasser, a redshirt junior at the time, was several years removed from the last time he attempted a pass in a football game.
"Probably seventh grade," Sasser said. "I was a quarterback and then I switched to receiver halfway through the season and just wanted to catch touchdowns, but I could always throw. It was something that I used to do after practice. Throwing from like the 50-yard line trying to hit the crossbar or goalpost."
To end the game, Georgia would punt and throw interceptions on back-to-back possessions and Mizzou secured a 41-26 win for its first road win over a top-10 team since 1982.
That play would be one of a handful of signature plays throughout that season, but for the Tigers, it signified that they would try and win games by any means necessary. And that they could beat anybody in the country.
"You've just got to figure it out," Sasser said. "Like it wasn't that it was super special 一 it's great now looking in hindsight, but at the time, it was just a play we had. This wasn't a play just for fun. We're not doing this to get a crowd excited. We're doing this to figure out how to win this game."
End of a perfect season
Missouri jumped 11 spots in the rankings to No. 14 heading into its week seven home game versus No. 22 Florida, and would move to 7-0 on the season after easily dispatching the Gators 36-17 behind Josey's 18 rushes for 136 yards and a touchdown.
This would set up Missouri's third straight ranked versus ranked matchup, this time against No. 20 South Carolina.
Mizzou had the game in hand a little past the midway mark of the third quarter with a 17-0 lead. Then, the Gamecocks made a change at quarterback and had Connor Shaw replace Dylan Thompson.
Shaw helped lead the Gamecocks to three 60-plus yard scoring drives, two of which ended with passing touchdowns, to tie the game at the end of regulation at 17.
The teams would trade touchdowns in the first overtime to enter the second overtime knotted up at 24.
South Carolina's Elliot Fry made a 40-yard field goal on its possession before Mizzou's Andrew Baggett missed a 24-yard field goal, banging the ball off the upright handing the Gamecocks a 27-24 double-overtime win and the Tigers their first loss of the season.
Even though Mizzou's perfect season went up into smoke, the team didn't let the loss linger and they treated it the same way they treated the wins.
"We knew we messed up as far as a perfect record because we knew we had the ability to and we knew we let one slip," Sasser said. "However, we also knew that we have a formula right here on this team and we've got to do the same thing we've been doing.
"Even after a win, after 24 hours, it's over. We didn't hang on to that Georgia win for multiple days. It was like it happened, but now we're on to Florida. … We worked out on Sundays, so it was odd if you were still talking about the last game because we knew what we had. We know we're not a bad team all of a sudden. We didn't do what we were supposed to do."
The loss brought South Carolina within a game of Mizzou in the SEC East, and if the Tigers lost another conference game, they'd be out of the hunt for the division title and SEC Championship.
However, no one on the team was worried about the slip-up to South Carolina, especially the coaches.
For the Tigers, if winning out was the only path to Atlanta, they believed those were more favorable circumstances than some alternatives.
"I felt like that 2013 team 一 the best teams I've ever been on were coach-driven and player-led," Henson said. "I thought that team did an unbelievable job of holding each other accountable and doing the right things."
Sixty minutes from Atlanta
Mizzou righted the ship and won its next two games over Tennessee and Kentucky with Mauk still at the helm.
During Franklin's absence, Mauk completed 60-of-117 passes for 933 yards, 10 touchdowns and two interceptions in five games. Five of those touchdowns came in a 48-17 win over Kentucky which tied a then school-record.
He also rushed for 177 yards and a touchdown on 34 attempts, including 114 yards on 13 carries versus Tennessee.
In week 11 versus No. 24 Ole Miss, Franklin returned to the starting lineup and the Tigers edged out the Rebels 24-10 to set up a regular-season finale versus No. 19 Texas A&M and the reigning Heisman winner Johnny Manziel.
With a win, Mizzou would clinch the SEC East title.
At least, that's the way most people outside of the program were thinking. A year ago, in the regular season finale against the Aggies, Mizzou had gotten blown out 59-29.
So, in the back of the Tigers' minds was clinching the SEC title and being 60 minutes from the SEC Championship game. At the forefront was to give the Aggies their receipt back for the previous season's loss.
"The year before, that was the year Manziel won the Heisman and we got blown out at A&M," Franklin said. "So, I don't think guys were looking past it. Actually, we thought we were going to be playing Alabama maybe, and then like towards the end of the game we saw (signs of), 'We want Alabama' being crossed out to, 'We want Auburn.'"
While Missouri was trying to beat the Aggies, Auburn's Chris Davis was returning a missed field goal 109 yards on the final play of the game to beat the Crimson Tide 34-28. Combined with a miracle Hail Mary to beat Georgia earlier in the year, it made Auburn the first team to clinch a spot in the conference title game.
Back at Faurot Field, the game started out poorly for Mizzou with the Tigers' first four offensive possession ending with three punts and a fumble.
The Aggies took a 7-0 lead in the midst of Missouri's early offensive struggles before the Tigers settled down on their fifth possession which saw Franklin connect with wide receiver Dorial Green-Beckham for a 38-yard touchdown.
A&M took a 14-7 lead going into halftime before Mizzou stormed out of the half with consecutive touchdowns on its first two offensive possessions to take a 21-14 lead.
The Aggies would tie the game again before Josey took center stage for another one of the season's defining moments.
With 3:34 left in regulation, the ball sat on Mizzou's own 43-yard line on third and short. Josey took the handoff and broke it right up the middle 57 yards for a touchdown to give Mizzou the lead.
The play would stand on its own. But it took on an added mythology because it was Josey.
Two years and 18 days earlier, Josey had been writhing in pain at the 11-yard line after he tore his patellar tendon, ACL and MCL on a kickoff return attempt versus Texas.
"We spent a lot of time in the training room doing rehab and he told me (in 2012), 'Don't worry Frank. Don't worry next year I'm not going to let this happen,'" Franklin said. "And every game that year (2013) 一 what's really cool is he had a big run or big play every game that year. It was like his way of him sticking true to what he told me.
"But every game he had that, so to see him do that it was kind of the cherry on top of everything that he said and he's worked really hard. It was exciting. It was what we needed and he pulled through."
Sasser, who said one of his closest friends on the team was Josey, believes the score to essentially clinch the division title was a big moment, but not his biggest of the season.
"From my point of view, that wasn't even his biggest play in my eyes," Sasser said. "His biggest play was his first touchdown run of the season because we knew what he could do already. It was to see him come back and run that stretch play to the right side and take it up 40-something yards versus Murray State. I've never felt that much joy for one of my teammates."
And just like that, Mizzou was headed to Atlanta. The Tigers were playing for the SEC Championship in just their second season in the league.
Fifteen minutes from the National Championship
Leading up to the championship game, Mizzou wanted to keep everything business as usual and didn't want to let the stakes of the game or anything outside the program muddy its thinking.
Henson was the tight ends coach in 2007 for the LSU team that won the SEC Championship and BCS National Championship, so he knew what preparing for this game was like.
"I think the goal is to make every game the same and the purpose of that is you bring your approach at the same high level for every game," Henson said. "You try not to be up for some games and down for others."
The difference between his LSU team and the Missouri team was that it was widely believed that if Missouri defeated Auburn it would be playing in the BCS title game.
LSU didn't have the same thought process when it entered its SEC title game.
"In 2007, we felt like we were just going to the game to try and be SEC champs," Henson said. "After we lost against Arkansas, it was like this team is going to put their name up there as SEC champion when you come back in 20 years. Because there really wasn't another aspiration to go on to the national championship because we thought we were out of it after we lost to Arkansas."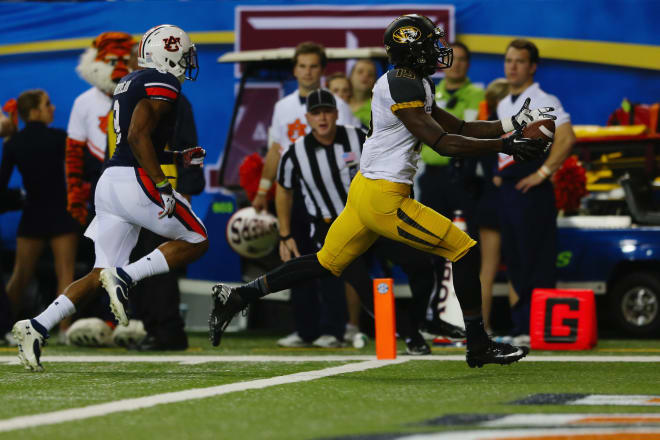 "We were trying to keep it business as usual, but man we had a good time (in Atlanta)" Sasser said. "I think as players we went out there and did all that we could. We brought back adjustments that we needed to make as a unit and we did what we could with what we had."
The game was a tight high-scoring affair for most of the game with Auburn holding on to a 28-27 lead entering halftime.
Mizzou would eventually take a 34-31 lead a little past the midway point of the third quarter before being outscored 28-8 and losing 59-42.
Auburn running back Tre Mason ran for 304 yards and four touchdowns on 46 carries, breaking six SEC Championship records that still stand today.
"I think it was a combo of when the offense didn't step up, the defense did, and when the defense didn't step up, the offense did," Franklin said. "And then, further along, we both weren't stepping up when we needed to."
Despite the loss, and being a quarter away from reaching its first national championship game, the feelings coming out of the game were still positive.
Mizzou felt validated, except the only validation it sought was from itself.
"No, we weren't seeking validation 一 not from outside folks," Sasser said. "It was like we needed to put it together for us. Because we're the ones playing on Saturday. I think, if anything, that the validating factor was that we needed to prove to ourselves 一 what we talked about all year long 一 that we knew what we had. Especially for the leaders of the team and those who would be leaving early, this was the only chance we had to leave a big mark."
Legacy of Mizzou football and Gary Pinkel 
Missouri wouldn't go to Pasadena, California, and meet Florida State in the national title game, but to Arlington, Texas to face former Big 12 foe Oklahoma State in the Cotton Bowl.
Unlike the SEC Championship game, this was largely a defensive battle for most of the game with Mizzou entering the fourth quarter with a 17-14 edge over the Cowboys.
The teams would combine for 41 points in the quarter with Oklahoma State taking a brief 31-27 lead after trailing by as much as 10 points in the first half.
However, Mizzou would score on its next drive to take a 34-31 lead and leave it to its defense to win the game. And much like the double pass at Georgia and Josey's run versus A&M, a late-game highlight by defensive ends Michael Sam and Shane Ray put a bow on the game and season for the Tigers.
The Cowboys were driving down the field and was at Mizzou's 23-yard line with a minute to go on second down when Sam beat the right tackle around the edge and strip-sacked Oklahoma State quarterback Clint Chelf.
Ray recovered the fumble and returned it 77 yards for a touchdown, effectively sealing a 41-31 win for the Tigers.
Josey would take MVP honors after recording 92 yards and three touchdowns on 12 carries.
So, a year after the Tigers finished 5-7 and didn't qualify for a bowl game, the Big 12 defectors showed they had the talent, the will and the coaching to compete in the top league in college football.
"I think you earn respect," Henson said. "Mizzou can play in that league and it can be successful. I think overall as a program it did change perception and that's what we were looking to do. And we did it that year. Our guys did it. People don't give Gary Pinkel enough credit for what he did there. Really go look at it. Even when Coach (Bill) Snyder got it going at Kansas State the school invested a lot more to help them out than Missouri ever did.
"That guy built that thing on culture and we attracted kids there because of culture, but our facilities were way down in the league, and even in the Big 12 they were way down. And the job he did at Missouri 一 I just don't think the guy gets enough credit for the unbelievable job he did there."
Mizzou finished the season at No. 5 in the AP poll with a 12-2 record.
Four players (Green-Beckham, EJ Gaines, Andrew Wilson and Sam) would make an All-SEC team with Sam winning Co-Defensive Player of the Year honors. And a couple dozen players would eventually play in the NFL.
"I think it really helped showed we can do it and can play in the SEC and it's just like any other team, any other conference," Franklin said. "It's unique to its own. I feel like it is more of a mentality to go to a different conference because skill wise so many schools are talented. It's not like this school is more talented than that school, but I think the mentality is a big separator.
"I think that it helped us in this program. It helped Coach Pinkel's legacy kind of having that mentality that they can play up there."