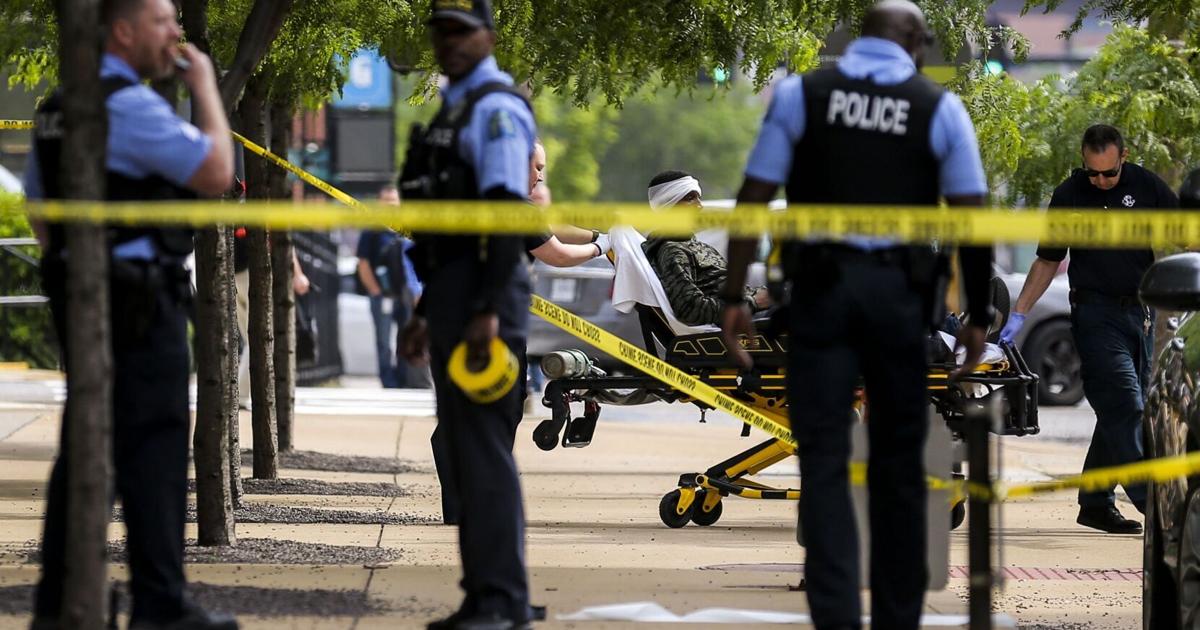 ST. LOUIS — A decade ago, Jamilah Nasheed and I sat side-by-side as a Missouri Senate committee peppered then-Mayor Francis Slay with questions about the local control of police in St. Louis.Nasheed was a state representative, sponsoring a bill to return control of the police department to the city for the first time since the Civil War.The bill never made it through to the full Legislature. But in 2012, voters passed a statewide proposition, funded by prolific political donor Rex Sinquefield and others, to return local control of police to St. Louis. It left Kansas City as the only city in the country to not direct public safety decisions without state interference.Nasheed would later become a state senator, where every year she would file a bill or two to try to address gun violence in St. Louis and elsewhere. In 2020, she sponsored a proposed red-flag law, which would keep guns out of the hands of people with mental health issues — such as the young man who in October shot and killed two people at Central Visual and Performing Arts High School.
People are also reading…
The bill never got a hearing."I rise today to speak for those who have no voice of their own. They have been silenced by violence, silenced by crime, silenced by the deafening sound of gunfire in our streets," Nasheed said during a debate at the time. "Make no mistake: the gun violence epidemic in the state of Missouri, especially in the city of St. Louis, is a public health crisis."I mention those two issues together — local control of police and the public health crisis of gun violence — because they have long been related. And they will be again when the Missouri Legislature convenes next year.Three successive St. Louis mayors — Slay, Lyda Krewson, and Tishaura O. Jones — have had control of the city's police department since voters took it away from the state. All three mayors have begged the Missouri Legislature to give them tools to help get guns off the street."It's the guns," Jones has said on more than one occasion, echoing comments by her predecessors and by prosecutors and police chiefs.That's why state representatives like Peter Merideth, D-St. Louis, David Tyson Smith, D-Columbia, and Richard Brown, D-Kansas City, as well as state Sen. Karla May, D-St. Louis, are focused on bills to make it easier for police to tackle gun violence.Merideth wants the state to return to the pre-2016 reality, when every Missourian who wanted to carry a concealed weapon needed a permit. Gun violence has skyrocketed in the state, in rural and urban areas, since that repeal — and even all the way back to the 2007 repeal of a handgun permit law. Smith has filed a new red flag bill. So has May.Meanwhile, several rural Republicans have already filed bills seeking to re-take control of St. Louis police, seeking to scapegoat leaders like Jones for crime problems rather than the proliferation of guns.Those lawmakers are tackling the wrong problem, Merideth says. Not long ago, he was dropping his daughter off at day care when he saw a police officer had stopped a couple of men for questioning. The men had masks and backpacks. They had guns in their backpacks. Because of laws passed by the Missouri Legislature, the police could do nothing, and the men with the guns in their backpacks knew it."I hear stories every week of people with guns who are pretty obviously up to no good, who get stopped by police and they are let go. Why? It used to be police could check for a permit and they could take the gun. Now they can't," Merideth says. "Those of us who represent these areas, we're actually listening to law enforcement and public health experts on what would actually reduce gun violence, and we're pushing for those solutions in law. Meanwhile, the Republicans simply want to have a political fight about who supports police. It's a fake debate."Much like Nasheed more than a decade ago, Merideth knows some of the gun safety bills won't even get a hearing. But the legislators plan to press forward.Nasheed isn't a lawmaker anymore. These days she sees another side of the criminal justice system, as a member of the state's parole board. Her words from 11 years ago — about victims, the sounds of gunfire and gun violence — still ring true today. Even though Democrats in Jefferson City have failed to win the gun safety debate in the years since, she hopes they won't stop trying. The end game, Nasheed says, is protecting "the most vulnerable in our community.""Those are the children who are being gunned down every day," she says. "It's going to be an uphill battle, but that doesn't mean you stop fighting."
From City Hall to the Capitol, metro columnist Tony Messenger shines light on what public officials are doing, tells stories of the disaffected, and brings voice to the issues that matter.
>>> ad: See the Best Amazon Deals of TODAY! <<<<
Originally Appeared Here