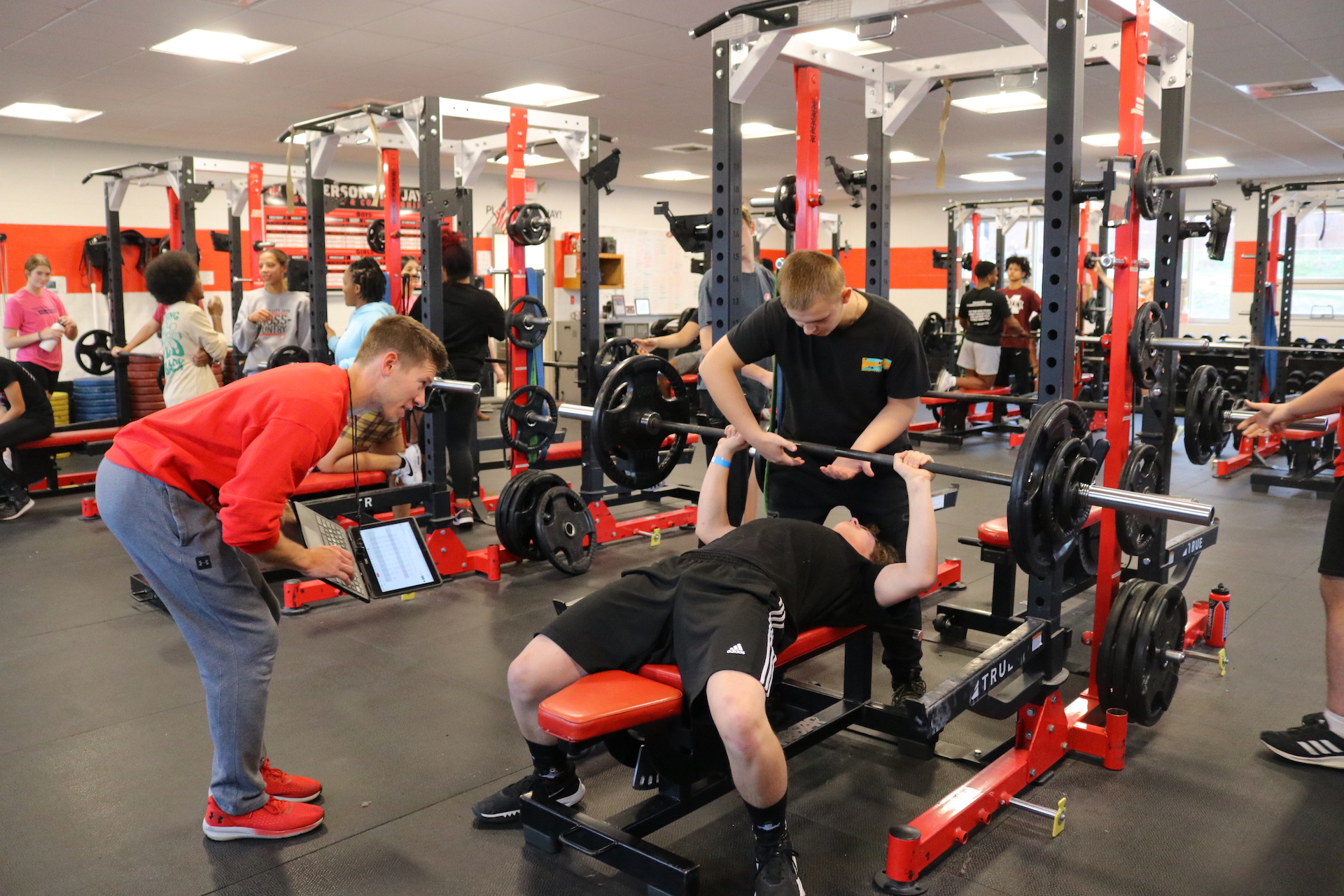 When you step into Garrett Buschjost's strength training class, the air positively crackles with energy.
It could be the pop music bumping through the speakers. It could be the clang of weights or the exertion of the workouts. Then there's the students themselves, straining to hit their goals and letting out a whoop for themselves or their friends when they succeed.
The high energy level is by design.
"I want this to be their most fun and most enjoyable class of the day. And they come in here, and we try to give them as much energy as we can, and then we expect it from them," said Buschjost, a physical education teacher at Jefferson City High School.
He greeted each student with a high-five and a few words as they walked through the door. He led them through a quick warm-up before having them partner up and begin shooting for their maximum weight on the bench press. Partners helped spot each other as they gradually moved up to their maximums.
When the students called for him, Buschjost would come over to watch and verify that they could lift their maximum.
Sometimes it didn't work out. Students would have too much weight on the bar or be too tired from previous reps. Their spotter would help them get the bar back in the rack and try again later.
But when they succeeded, the energy throttled up again.
Students were allowed to get going at the end of class if they had finished with their max, but junior Jayden Roling and senior Steven Samuels stuck around for a while, shooting for more weight.
The names J. Roling and S. Samuels are all over the leaderboard on the wall.
Throughout the class, other students gathered around them, watching tensely as they labored to raise increasingly heavy bars. After each, students would clap, shout their names and congratulate them.
When a student achieved a personal record, the class would pause and shout "PR" or give two claps to recognize their accomplishments. Students might also shout "Jay standard" or "Lady Jay standard" to honor high effort.
When he came to the district four years ago, Buschjost revamped the program to make it more of a cross-training program involving students from all different sports. The class has students from several different sports, including football, basketball and soccer.
The biggest focus is on development, both physical and mental, he said.
He tries to meet the students where they're at — from those who lift weights all the time to those who've never been in a weight room before.
It's not about having students who can squat 400 pounds, he said, as long as they are getting better every day. He also wants them to build a good mindset.
"We'll give them some mental conditioning, some nutrition, we'll put that into our kind of our talks. … They're mainly graded on attendance, which is 70 percent, but then they have surveys they do every day. That's a nutrition survey."
Students are asked to grade themselves on fruit and vegetable intake, hydration, breakfast, rest and recovery, and more.
"I'm hoping if they do it every day, it'll start resonating in their brain, 'OK, I only got three hours of sleep last night, no wonder I feel sore, no wonder I don't feel great,' and then making those wise choices on their own," he said.
This leads to intrinsic motivation, rather than extrinsic, like the teacher or coach telling them to do better.
"That doesn't last," he said.
The students enjoy the positive environment and the challenge to do better.
Sophomore Cameron Zielinski spotted for sophomore Brandon Miller as he successfully attempted his maximum.
Zielinski said the mindset he's learned in the strength training class has given him the motivation to persevere in the classroom.
"I love the support, and I love all the different variety of lifts that we do, different focuses on conditioning, getting faster and stronger," Zielinski said.
"There can be challenges at some point, but I mean, you all work them out, and it's good to have challenges," he said.
Zielinski, a baseball player, said his favorites are bench press and the clean.
"I like how everyone's really supportive of each other," Miller said, whose favorites are squats and bench press.
Buschjost often posts about the successes and perseverance of his students on social media. He said he's proud of what they do.
"I have the best job in the world. The kids do a great job," Buschjost said.
He said he has high expectations for them, but they do a great job of upholding the standard.
When students leave his class, he hopes they leave with an appreciation for fitness.
"I'm hoping they like training … it might not be like me, where they geek out and it's their life, but they have a lifestyle where they love physical fitness, and it's not like we did something in here that makes them hate working out and they never want to do it again," he said. "So I'm hoping when they leave here, they enjoyed their experience and they can take that with them, moving on to continue to have a healthy, active lifestyle."
>>> ad: See the Best Amazon Deals of TODAY! <<<<
Originally Appeared Here