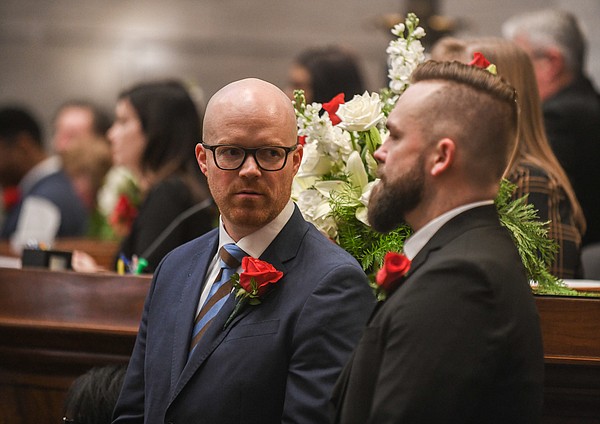 Education, a main target of legislation last session, is sure to be a focus in the new legislative session in Jefferson City.
Lawmakers last year passed funding for school transportation, the Career Ladder program and a voluntary grant program that led to teacher pay raises.
One major focus this year, following the recommendations of the State Board of Education and the Blue Ribbon Commission on Teacher Recruitment and Retention, has been attracting and keeping teachers in schools.
But lawmakers have also proposed plenty of legislation that goes beyond recruitment, retention and teacher pay by taking aim once again at school curriculum oversight, school safety and school choice.
Curriculum oversight, parent and teacher rights
Last session, several lawmakers proposed a "Parents' Bill of Rights" that would guarantee parents' right to view school curricula and object to materials they find inappropriate for their child, among other provisions. This year, similar bills have popped up, such as SB 89, sponsored by Sen. Ben Brown, R-Washington.
There's also a "Teacher Bill of Rights," sponsored by Rep. Ed Lewis, R-Moberly, that guarantees teachers the right to be free from physical, verbal or written abuse, to be evaluated by an administrator, to remove disruptive students and to have preparation time each day during regular hours, among other things.
Other bills would require the instruction of certain subjects in schools, including Native American history and African American history. One such bill, HB 66, sponsored by Rep. Marlene Terry, D-St. Louis, requires that curriculum teaches "that Columbus did not discover America" as well as covering "the murder, enslavement and mutilation of indigenous persons by Columbus."
Several bills, such as HB 75 by Rep. Ann Kelley, R-Lamar, would prohibit "mandatory gender or sexual diversity training or counseling" and would prohibit teaching that "one race or sex is inherently superior" or that "an individual, by virtue of the individual's race or sex, is inherently racist, sexist or oppressive, whether consciously or unconsciously."
Sports
Once again this year, several lawmakers have proposed a bill they've termed the "Save Women's Sports Act," which would require students to compete only on sports teams that align with their biological sex at birth.
School safety
A number of legislators are looking at changes to improve school safety.
HB 111, sponsored by Rep. Mark Sharp, D-Kansas City, would require the state's Department of Education to develop a model for a controlled access entryway to schools and require each school district to modify and implement an approved system.
SB 329, sponsored by Sen. Angela Mosley, D-Florissant, would allow "extreme risk orders of protection" which allows a court to restrain people from possessing a firearm if a parent, teacher, administrator or police officer shows they pose significant danger to themselves or others.
HB 70, sponsored by Rep. Chris Dinkins, R-Lesterville, would allow any designated school personnel to serve as a school protection officer. These protection officers could carry a weapon provided they had the appropriate permit.
ESAs and enrollment
Several bills would create open enrollment systems or provide vouchers to allow students to attend a different school district than the one they reside in. Others would open up Empowerment Scholarship Accounts to private school students or expand the number of counties eligible to host ESAs.
Empowerment Scholarship Accounts were created by the Missouri Legislature in 2021. They are accounts that can provide up to $6,375 a year for educational expenses, including private school tuition, homeschooling costs, tutoring and others. Nonprofit Educational Assistance Organizations can receive tax credits for contributions toward scholarships for public school students in low-income families or those with IEPs.
Currently, only children in charter counties or cities with populations greater than 30,000 are eligible for ESAs.
Julie Smith/News Tribune photo:
Dean Plocher delivers a speech Wednesday, Jan. 4, 2023, immediately after being sworn in as Speaker of the House during opening day activities of the second session of the 102nd General Assembly. Plocher, a Republican from St. Louis, was elected to the role by members of the Missouri House of Representatives during the opening session.
>>> ad: See the Best Amazon Deals of TODAY! <<<<
Originally Appeared Here