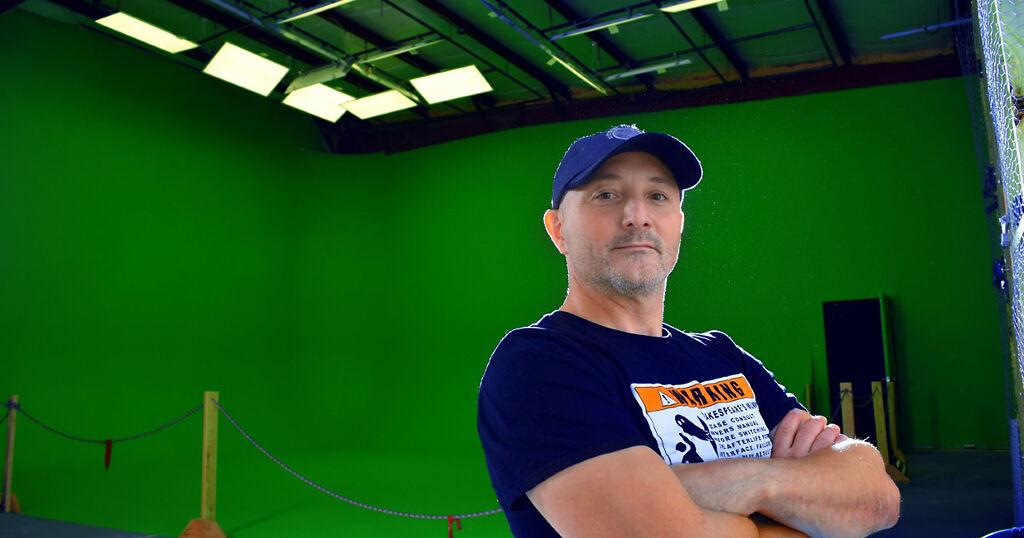 What if a pizza were delivered to a fraternity party, but instead of pepperoni slices, they opened it to discover the withered hand of a mummy?
Local filmmaker Adam Boster pondered this question years ago, kept the idea in his back pocket and is now embedding it as the story line of his latest movie. 
Set in Columbia, "Shakespeare's Mummy" sets up an intersection of reality and Egyptian mythology. What started as an idea during a spitballing session with a college buddy has become a full-length independent film now going through post-production.
Boster has been immersed in the independent movie business for decades. He started with a VHS camera as a child, spent a decade in Los Angeles in film, television and music, then moved back to Missouri to make indie films and start Action Hero Photography.
An earlier film, "Lost Treasure of Jesse James," is available on DVD, Amazon Video through UPtv or GreenlitGo, a streaming service Boster made for indie content creators. It follows a team of Missouri kids looking for treasure in a series of ancient caves and won Best Family Film of 2020 at the Green Mountain Christian Film Festival.
The film
"Shakespeare's Mummy" begins with a sister enlisting the help of her younger brother as she juggles delivering pizza and taking care of two neighboring kids one weekend.
Their situation is already messy, but it worsens when a mummy hand emerges from a Shakespeare's Pizza box, thanks to mobster villains working to destroy the world on behalf of an Egyptian goddess.
The four kids struggle to avoid global destruction by putting the hand back where it belongs before a portal to the underworld unleashes a zombie takeover. In the end, the story delivers powerful messages of friendship and forgiveness. 
Boster actually began to make movies at William Jewell College in Liberty.
During college, he frequently drove to Poplar Bluff, his hometown, stopping in Columbia to grab a slice at Shakespeare's Pizza with his father. Eddie Boster owned Salt of the Earth Records and Skateboards on Ninth Street and was close friends with Shakespeare's manager, Kurt Mirtsching.
Thus began Boster's connection to the iconic pizza place. He was able to film scenes of his first feature film, "Psilence," behind the restaurant. A Shakespeare's Pizza T-shirt later appeared in "Lost Treasure of Jesse James."
The restaurant's influence meant its spotlight in his latest film was a "duh" moment.
"That mummy hand has been hiding in that pizza box for a long time," he said.
The filmmaker
Before moving back to Missouri, Boster spent a decade in Los Angeles working in film, television and music.
Once he was tasked with picking up Christopher Walken from the airport but didn't realize who he was. He danced in Madonna's "Deeper and Deeper" music video. He acted in "Dazed and Confused" and heard Matthew McConaughey's famous "All right, all right, all right" line live. He was the lead singer in a band called Lyn's Vision, and he learned to edit film.
"By the time those 10 years were over, I had done every one of those things in the credits," Boster said of his experiences.
Yet as he was nearing 30 and his third child was born, Boster said he "completely financially failed in LA." His family moved to Columbia into his father-in-law's basement.
Within a year, Boster had launched Action Hero Photography with only a camera in his garage. Being creative is something Boster says has been ingrained in him since childhood.
"It's like eating or breathing," he said. "I couldn't imagine not being creative," he said.
He makes his films with the help of what he calls his "film family," a collection of volunteers around Columbia who band together and are "willing to participate and learn and live the dream with you," he said.
The principal actors in "Shakespeare's Mummy" — Jaidyn Franz, Lukas Boster, Megan Sims and Noah Billington — all played in "Lost Treasure of Jesse James," along with several others in the cast and crew.
His wife, Angela, worked on every level of the film, ensuring the actors would be prepared and locations were lined up.
The Bosters partnered with the Columbia Visitors Bureau to gain access to locations around town. Locals will recognize the outside of the courthouse, Gentry Middle School and the Museum of Art and Archaelogy. 
For the kids' neighborhood in the film, each homeowner also had to grant permission for their houses to appear on-screen.
"In the film industry, there's a phrase called 'It's who you know,'" Boster said. "I'd even say a better thing is, 'It's who you build really good relationships with.'"
Boster the photographer
To fuel his passion for movie-making, Boster runs Action Hero Photography, a business that showcases martial arts schools across the country.
He has trained a number of photographers, and they travel to 39 states and previously Australia to photograph martial arts schools and their students.
The business has become like a family for Boster. He said he is blessed to work alongside his father, and some employees have been with him nearly two decades.
Teresa Weigel-Potts, operating manager at Action Hero Photography, has worked with Boster for 17 years. She said he hired her to run his business while he shot photos and worked on movies, calling her the answer to his prayers.
"Adam takes care of me and my family as much as I take care of him and his family," Weigel-Potts said. She jumps in to help with anything in the office or on the road, and her family has worked with Boster on his movies.
Weigel-Potts described the job as an adventure, and she does not foresee herself ever leaving the tight-knit company.
The process

Shot in just 19 days, it could be years before Columbia residents see their town in "Shakespeare's Mummy."
"A lot of people don't realize how long it takes for a film to be made and then to be distributed across the market," Boster said.
Post-production has also been intensive and ongoing. The 92-minute movie uses professional-level lighting, sound-mixing and visual effects, like magic and fully animated segments, and edits are made across 22 video channels and over 150 audio channels. Surveys from recent test screenings in Columbia and Fulton help guide the edits.
Boster said he hopes to show "Shakespeare's Mummy" at major film festivals in 2024, with an official release date set later.
"We may not make multi-million dollar big studio films, but I am very blessed because I get to create my dreams and my visions," Boster said. "And I've worked very hard in my life for that opportunity." 
>>> ad: See the Best Amazon Deals of TODAY! <<<<
Originally Appeared Here