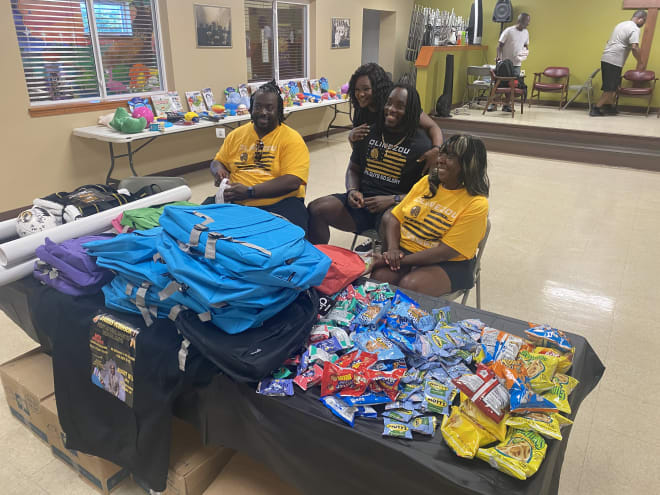 COLUMBIA 一 When Missouri defensive lineman Darius Robinson decided to return for one more season instead of going to the NFL Combine and opting for the 2023 NFL Draft, he had a list of things he wanted to do.
Thank you for reading this post, don't forget to subscribe!
High up on that list was giving back to the community, and that's what he did Saturday afternoon with his first back-to-school drive for K-12 students at Second Missionary Baptist Church.
Robinson, who's in the midst of learning a new position in fall camp with the Tigers, said he understands how hard it is for some parents to get school supplies for their kids because he saw his mother struggle to do the same for him in his native Southfield, Michigan.
"I always thought about back-to-school drives and how stressed out my mom would be about school supplies, so I reached out to my church and figured out what things they needed to be done over here for going back to school day," Robinson said. "They said they didn't have backpacks, so I did my research and bought 100 backpacks and donated that to the kids in Columbia.
"Sometimes your situation is check-to-check and bills come first before school supplies. My mom always worked hard and made sure I had what I needed. Not what I wanted, but what I needed, and I'm so appreciative of her and thankful for this opportunity."
GET THE INSIDE SCOOP EVERY DAY WITH YOUR PREMIUM SUBSCRIPTION!
Along with the backpacks, students could find other school supplies such as crayons, notebook paper and pencils the church provided.
But Robinson didn't want to stop by just donating the backpacks. He also decided to give away prizes, footballs and autographs. The supplies didn't last long. Thirty minutes before the event started there was a line that almost went out of the door and 25 minutes after the start of the event all of the supplies had been handed out.
Denisha Bradford was able to take her six-year-old son Deviyon Montgomery to get some supplies before they ran out and was thankful an event like this could take something off of her plate.
Darius Robinson and teammates Chad Bailey, Nathaniel Peat and Chuck Hicks pose for a picture with two members of Second Missionary Baptist Church. (Jarod Hamilton)
"It's a blessing for everyone that's struggling trying to get school supplies and get stuff for school," Bradford said. "I appreciate all the help that the church and everybody is doing as far as the community because it is a struggle and the struggle is real.
"It helps because it does take a lot of stress off of you and every little bit helps because bills don't stop coming."
Usually, Second Missionary Baptist hosts a similar annual event called "Back to School Explosion" which not only gives away school supplies but has games, face painting, food and more.
However, in recent years, it's been much harder to do.
This time around, it was much easier with Robinson lending a hand, so they were able to do some of the stuff they've done in years past plus some new things such as having barbers give free haircuts.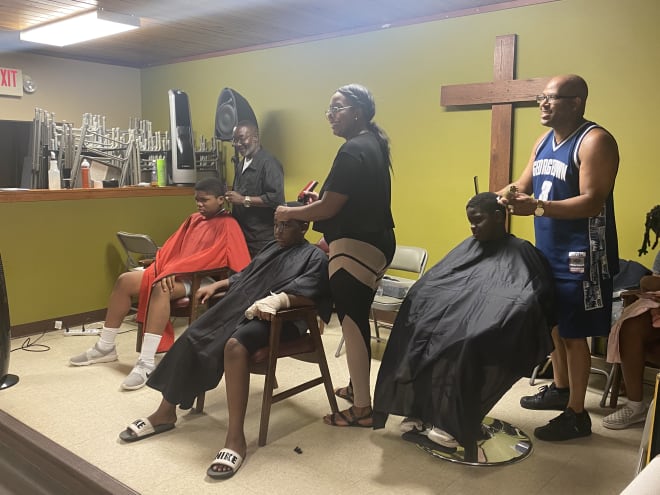 Barbers give free haircuts to students at Darius Robinson's back to school drive (Jarod Hamilton)
"We've done this every year, but it is hard," Reverend Trina Boone, who has been with the church for 20 years, said. "It's hard to get those school supplies because by the time we buy all this other stuff, it was hard to buy the school supplies and find people to partner with because there are others who do it.
"By the time you get around to these other organizations, they're like 'Yeah, we've already donated our stuff, sorry.' So, to have him come and give those backpacks is a huge piece of the puzzle that's missing."
Robinson has a deep passion for football but on Saturday, he said he woke up more excited about the event than he is for the Tigers' first game of the season on Aug. 31 versus South Dakota.
Boone said people have donated money or resources before but no one has ever done something like this. And as much as she values Robinson's donation, she values his presence at the event just as much, if not, more.
"Everybody talks about what they want to do for the youth. They think the youth is the future of the world, which they are, but nobody wants to take the time to be here, be present, train them, give them things," Boone said. "He not only wants to be here but he's doing it between all of the stuff he already has to do. Not only has he already done stuff this morning (practice) and then he came here and he still has more to do this evening."
Head coach Eli Drinkwitz spoke to the media on Saturday and couldn't be prouder of Robinson for taking the initiative and using his own NIL money for an event like this.
"I'm really proud of Darius for giving back," Drinkwitz said. "We're blessed to be a blessing and for him to understand that and actively give back. … I think it's an attitude of gratitude."
Robinson wasn't alone on Saturday, though.
Dozens of his teammates and coaches were at the event to help and support him, like linebacker Chuck Hicks, who said he thought it was a brilliant idea on Robinson's part.
"Once I found out about it, I thought it was amazing because we're allowed to give back to the community, and not often before NIL came about were we able to do this," Hicks said. "So, I think he's doing a great thing for the community and showing how great of a guy he is."
Robinson was overjoyed with the success of the event and hopes he can provide another back-to-school drive in Columbia, and maybe in Southfield and wherever his future pro career takes him.
"It was a lot of people 一 more people than I thought it would be, and I was able to give out as many as I can and I'm just glad for all my teammates' support," Robinson said happily. "I'm just glad I was able to get them all donated, but I just know next year we've got to order some more bags."
Stay up to date on all the Mizzou news with your premium subscription
Talk about this story and more in The Tigers' Lair
Make sure you're caught up on all the Tiger news and headlines
Subscribe to our YouTube Channel for video and live streaming coverage
Follow our entire staff on Twitter
>>> ad: See the Best Amazon Deals of TODAY! <<<<
Originally Appeared Here