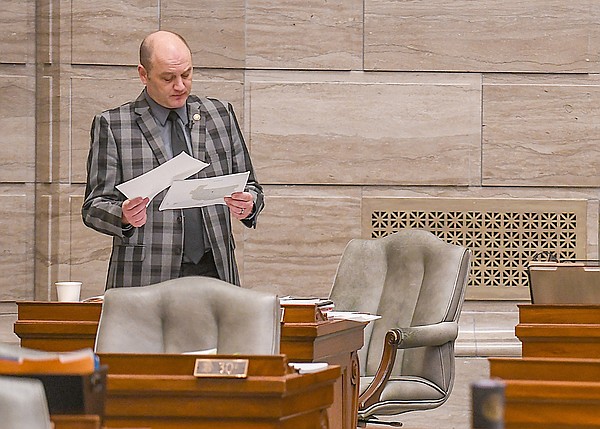 Missouri lawmakers are seeking to bring the film and music industries — and all the investments and jobs that come with them — to the Show-Me State with a set of tax credit proposals.
The Senate Economic Development and Tax Policy Committee heard testimony on eight bills Monday afternoon, several of which covered the same ground.
Sens. Doug Beck, D-St. Louis County, Karla Eslinger-R-Wasola, and Denny Hoskins, R-Warrensburg, each sponsored the Show MO Act. The bipartisan effort would revitalize a defunct tax credit program for qualified film productions taking place in Missouri, an incentive that expired in 2013.
If reauthorized with a new sunset scheduled for 2029, the program would credit 20 percent of expenses associated with a film project undertaken in Missouri.
An additional 5 percent would be added for any expenses if at least half of the project is filmed in Missouri and 15 percent is filmed in an urban, rural or blighted area.
An additional 5 percent could be added if the state determines the script positively markets the state, its regions or its attractions.
Sen. Angela Mosley, D-St. Louis County, sponsored the Show Missouri Film and Digital Media Act, which largely covers the same ground under a different name.
Hoskins said Missouri was losing thousands of college graduates who studied film to other states, like Georgia, that incentivize the industry.
"Thirty-eight of Missouri's colleges and universities offer film and digital media programs to future industry leaders, and they've had about 20,000 graduates of these programs from 2015-2020," said Hoskins, a former member of the Missouri Film Commission. "However, many of these students can't find a job here in the state of Missouri, and they have to go to other states that have different film incentives. So we'd like to get keep these students that are graduating with these jobs here in the state."
Several Missourians working in the film and television industries supported the proposals, including Stephanie Shannon, director of the Kansas City Film Office. Shannon said the film "Gone Girl," which was filmed in Cape Girardeau under the previous version of the program, brought in hundreds of thousands of dollars to the local community, from the hotels used to construction, signage and security services.
Since then, the state has missed out on projects based within its borders: "Ozark," a Netflix series set at the Lake of the Ozarks, was largely filmed in Georgia outside of aerial establishing shots in the lake area and Jefferson City. And as for the new Sylvester Stallone streamer "Tulsa King?" Oklahoma and its incentives took the crown for the show initially envisioned as "Kansas City King," she said.
With other projects possibly coming to the area to film, she said the tax credits would be a vital step toward ensuring Missouri gets that business.
"It's not that we have zero industry, it's that we just don't have the level of industry that we deserve: That puts us on screens around the world often and gets our workforce working at a good wage," she said. "One of the great things about the timeline these things take is that there could be a chance that you're able to pass an incentive bill so that we can actually capture that work and not lose out like we did with 'Kansas City King/Tulsa King.'"
She noted Kansas lawmakers are also working on a similar effort.
Another effort spearheaded as two identical bills from Beck and Hoskins is known as the Entertainment Industry Jobs Act. It would authorize a tax credit for rehearsal and live performance expenses within Missouri, covering 30 percent of expenses up to $1 million of a $4 million expense or $3 million of an $8 million expense.
These credits could be carried over into the following five tax years or sold, but not refunded.
The overall allotment for a year would be capped at $8 million, though the state could authorize an additional $2 million from a future program year's allotment.
Beck said the idea coincided with the recent construction of the Gateway, a massive rehearsal and production studio in Chesterfield designed to bring artists — and economic opportunity — to the area.
Gateway CEO Trey Kerr, a Missouri native who left the state to pursue a career in the industry, said he wanted to help bring the opportunity back home.
"I've been fortunate enough to have a very long and successful career, and it's very important for us to bring this industry back to Missouri and, really, to start a new industry in the state of Missouri," he said. "The idea behind this is that the artists coming in are causing an economic upturn and bringing in other companies into the state of Missouri. We want that industry to thrive here so that they can continue to build it."
He said representatives from across the industry had sent letters of support as well, touting the state's central location as a huge advantage.
Representatives from the Missouri Chamber of Commerce and Industry and Associated Industries of Missouri voiced their support for both sets of proposals, touting the opportunity to bring lucrative industries and both long-term and temporary jobs to the state.
Only Jeremy Cady with Americans for Property-Missouri testified against the proposals, asking lawmakers to direct their focus toward the needs of the workforce as a whole rather than a narrow industry.
"We think the state ought to be focusing on other items that would help all businesses, like phasing-out corporate income taxes, and even the personal income tax as well," he said.
The committee did not take action on any of the bills Monday.
SB 52: Establishes the Show MO Act
https://bit.ly/3Yc1yIz
Sponsor: Sen. Karla Eslinger
SB 58: Establishes the Show MO Act
https://bit.ly/3jcVhhh
Sponsor: Sen. Doug Beck
SB 94: Establishes the Show MO Act
https://bit.ly/3jeTpEH
Sponsor: Sen. Denny Hoskins
SB 67: Establishes the Show Missouri Film and Digital Media Act
https://bit.ly/3WRERZ8
Sponsor: Sen. Angela Mosley
SB 57: Establishes the Entertainment Industry Jobs Act
https://bit.ly/3DtyR1U
Sponsor: Sen. Doug Beck
SB 170: Establishes the Entertainment Industry Jobs Act
https://bit.ly/3XQHdc3
Sponsor: Sen. Denny Hoskins
>>> ad: See the Best Amazon Deals of TODAY! <<<<
Originally Appeared Here