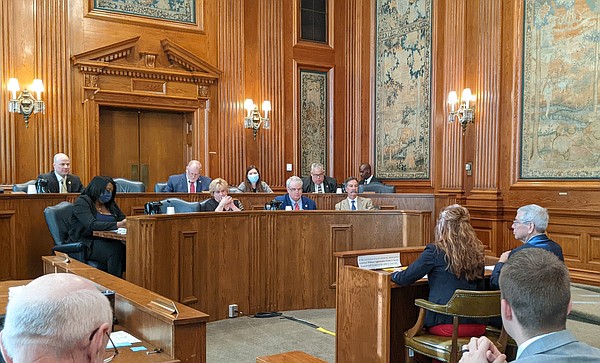 A Missouri Senate committee Wednesday confirmed 13 of Gov. Mike Parson's appointments, including a new military advocate and Department of Revenue director.
The Senate committee on gubernatorial appointments met for just under an hour Wednesday to certify a small portion of the governor's appointments to various posts.
Senate President Pro Tem Dave Schatz, R-Sullivan, chairs the committee and sped through confirmations quickly.
Nominees were brought before the committee, introduced by a Senate sponsor and fielded questions on the rare occasion members of the committee had any.
Wayne Wallingford, a former state representative and state senator from Cape Girardeau, was the first nominee to face the committee, who remarked on his experience and compassion in the Legislature. Parson announced last month he had chosen Wallingford to head the Department of Revenue.
"Along with Sen. Emery, probably one of the most kindest, gentlest persons that I've ever met is Sen. Wallingford," Schatz said.
"So I'm very pleased that you're being put in this position," he told the appointee.
The committee also approved Harry Roberts to serve as the Missouri Military Advocate within the Department of Economic Development.
Roberts was formerly the deputy chief of staff for Secretary of State Jay Ashcroft and was the presiding county commissioner of Buchanan County, which is home to the Rosecrans Air National Guard Base. Roberts helped lead the effort to expand operations at the base while serving as county commissioner.
Schatz said his only concern was whether Roberts would remain on his golf team in the fall.
Additional confirmations included two appointments to the State Fair Commission, two to the Audrain County Commission, one to the Amber Alert System Oversight Committee, one to the Jackson County Sports Complex Authority, one to the Missouri State Board of Nursing, one to the Children's Trust Fund, one to the Coroner Standards and Training Commission, one to the Missouri Gaming Commission and one to the University of Missouri Board of Curators.
All 13 appointments were approved together as a slate.
The Senate committee was also meant to confirm former state representative Becky Ruth to the Office of Child Advocate within the Department of Social Services, but she was in the hospital Wednesday and unable to attend, said Chris Sutherland, director of gubernatorial appointments for the Senate majority caucus.
The Senate has 54 additional appointments to confirm, which Sutherland said should continue next week.
Some of Parson's executive cabinet remain among those unconfirmed, including: Dru Buntin as director of the Department of Natural Resources, Valerie Huhn as the director of the Department of Mental Health, Ken Zellers as commissioner of the Office of Administration, and Donald Kauerauf as the director of the Department of Health and Senior Services.
Follow News Tribune reporter Ryan Pivoney on Twitter at @RyanPivoney.

>>> ad: See the Best Amazon Deals of TODAY! <<<<
Originally Appeared Here