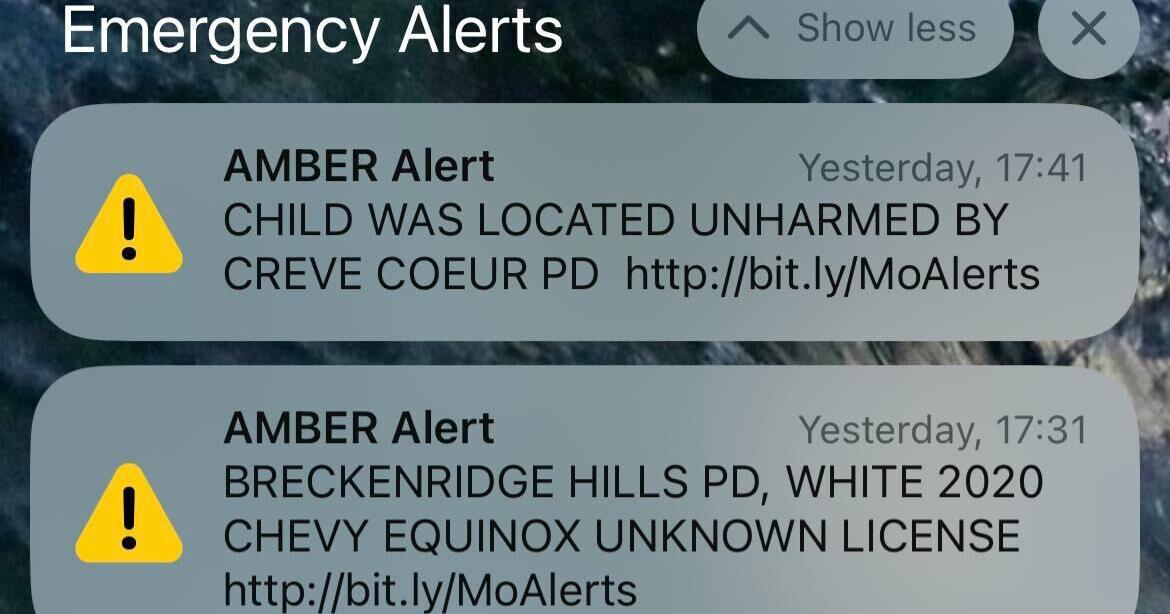 Thousands of cellphones across the St. Louis region started buzzing around 5:30 p.m. Wednesday, when the Missouri Highway Patrol sent an Amber Alert.
Thank you for reading this post, don't forget to subscribe!
The text message read: "BRECKENRIDGE HILLS PD, WHITE 2020 CHEVY EQUINOX UNKNOWN LICENSE." It included a hyperlink to learn details about the missing child emergency.
That link was to a Twitter account the Highway Patrol uses to broadcast information about child abduction cases. But many people couldn't open it because of new restrictions on Twitter.
Now, Highway Patrol officials say they plan to reach out to Twitter about the social network's new usage limits and how they're affecting Amber Alerts in the state.
"The Patrol is working to determine the best way to continue providing accurate and timely information to the public," Capt. John Hotz wrote in an email.
Twitter's latest restrictions have had other unintended consequences, such as disabling feeds embedded on government websites. The Post-Dispatch found broken Twitter feeds on websites for the St. Louis City Emergency Management Agency, the Missouri Department of Transportation and the Paducah office of the National Weather Service, among others.
The problems stem from new limits imposed by Twitter owner Elon Musk last week without advance notice. The social network began requiring users to log into an account in order to see content on the site. Prior to the change, tweets and account pages had for years been publicly viewable. Musk tweeted last Friday the change was a "temporary emergency measure."
On Wednesday evening, the Highway Patrol sent another alert just minutes after the original one: the child had been found by Creve Coeur police, unharmed.
During that short window of time, anyone without a Twitter account couldn't open the link in either alert. Instead, Twitter sent them to a login page.
Laurie Thurman, an insurance coordinator for a dental office in Chesterfield, was one of several people who complained on Facebook about the problem.
"I don't have Twitter, and I shouldn't have to sign up for Twitter" to learn details about Amber Alerts, she told the Post-Dispatch.
Thurman, a former Crestwood police dispatcher, said she was frustrated because she could have been looking out for the missing child.
"It's important to get this information out there to as many people as possible," she said. "The more eyes, the better. That's the entire point."
For now, the patrol's alert text messages will continue to include a link to the @MSHPAlerts Twitter page, Hotz said. But people without Twitter accounts can find the information on the Patrol's website, its Facebook page and on local media outlets.
The patrol began integrating its Amber Alert system with Twitter in March 2020 and started including Twitter hyperlinks in the alerts at the same time, Hotz said. So far this year, the patrol has issued 10 alerts involving 12 children, all of whom have been located safely.
Twitter's capacity to handle huge amounts of traffic was one of the reasons Missouri and other states chose to use it for their Amber Alerts, Mike O'Connell, spokesman for the Department of Public Safety, said in an email, noting that the decision was made before Musk's purchase of the site.
"At that time, it was the only social media platform that allowed ready access to the information to people without accounts," O'Connell said.
'Extreme measures'
Twitter has also begun capping the number of posts users can read each day, saying in an unsigned statement that it needed to "take extreme measures to remove spam and bots from our platform."
The changes made it difficult for the National Weather Service's Denver office to collect storm reports from the public as it monitored severe weather threats on Tuesday.
A National Weather Service spokesperson confirmed that the new Twitter changes have affected the agency's use of the platform but noted that there are other avenues for disseminating information and crowd-sourcing storm reports.
"Twitter's new post viewing limits serve as a reminder for people to have multiple ways of receiving weather information and alerts," spokesperson Maureen O'Leary wrote, adding that the agency's social media presence is a supplemental service, not an official channel.
A spokesperson for the Missouri Department of Transportation struck a similar tone, noting that Twitter is just one of the platforms it uses to reach the public.
"MoDOT is staying on top of the changes to Twitter's policies and platform to best reach the audience on this social media channel," Taylor Brune wrote in an email.
Prior to the changes, Twitter made it possible for local governments to embed its feeds on their websites for the public to see. Now, many of the embedded feeds are broken. For example, the St. Louis City Emergency Management Agency's website includes the agency's own Twitter feed, plus a feed labeled "Current Weather," with tweets from the National Weather Service's St. Louis office. Both feeds now say only "Nothing to see here – yet."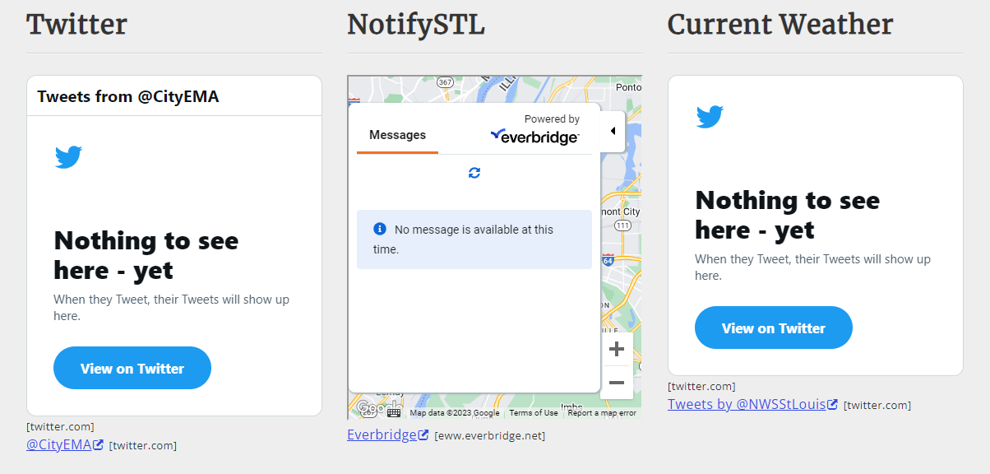 Twitter for years has been a vital channel for government agencies to deliver information in real-time, such as tornado warnings from the National Weather Service or traffic alerts from the Missouri Department of Transportation.
This isn't the first time Twitter changes had an impact in St. Louis. In April, Twitter began limiting tweets from automated accounts, prompting officials at the National Weather Service here to warn that they could no longer post watches, warnings and advisories as they were issued.
"We will continue to provide general updates, but ensure that you have multiple means for receiving weather information & alerts," the St. Louis office tweeted then.
A day later, St. Louis was buffeted by a severe storm that spawned multiple tornadoes.
After widespread criticism, Twitter backtracked on some of the changes, promising it would let verified government services tweet important alerts for free.