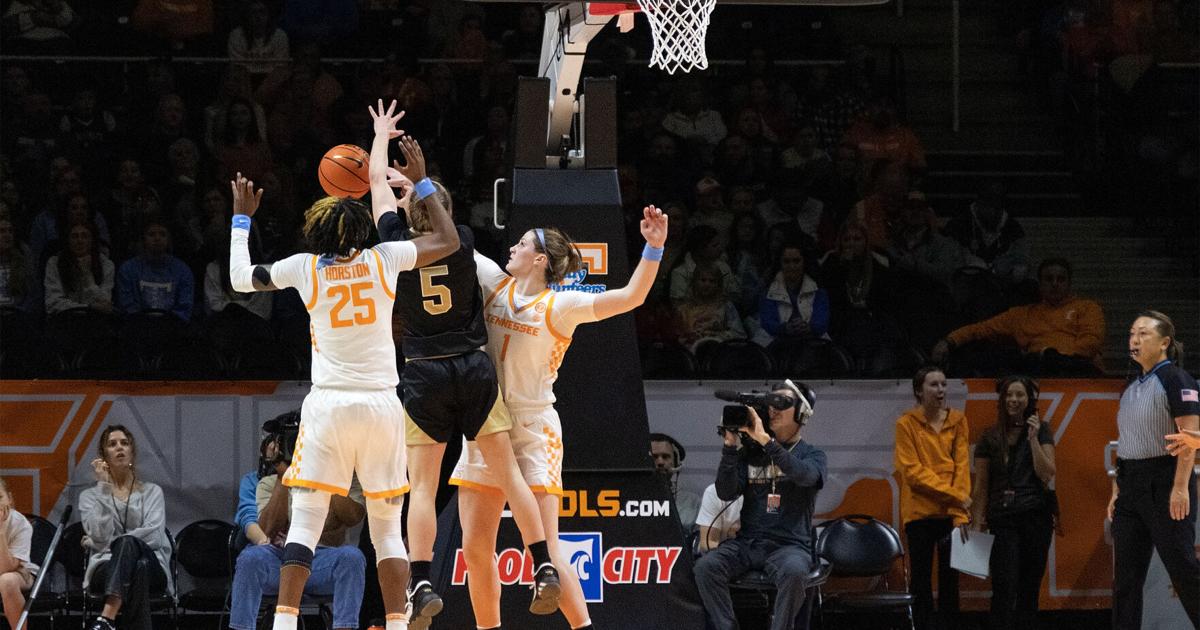 Tennessee (16-6, 8-0) is off to its best start in SEC play since the 2014-15 season after winning a nail-biter against Missouri (14-6, 3-4) on Sunday. With the 68-65 victory, Tennessee moves to 8-0 in SEC play. 
The Lady Vols got the win on Sunday without one of its biggest contributors in Jordan Horston. Horston did not make the trip to Missouri as she was dealing with an illness. 
Rickea Jackson moved into the starting lineup in Horston's absence. She finished below her average, putting up 15 points. 
"Sometimes, after a game, you walk in and the stats at this point don't matter," Tennessee head coach Kellie Harper said. "I'm just unbelievably proud of our team for finding a way to come out of here with a few more points."
Here are three takeaways from Tennessee's win against the Tigers. 
Sara "Bucket" Puckett 
Puckett caught the ball at the top of the key, and the sophomore forward shot it with no hesitation. She credits Harper with drawing up the successful play. 
"I was wide open, so I just got it and shot it," Puckett said.
She banked in the three, her third of the game, and tied the game up with 39.2 seconds left. 
"I mean the bank is open today," Puckett said on radio following Sunday's game. 
On the road in the SEC without Horston, Puckett stepped up. She finished with a season-high 17 points on 7-9 shooting. She hadn't scored in the double digits since Tennessee faced off with Stanford on Dec. 18. 
Puckett also made her presence felt on the defensive end. After hitting the three to tie the game at 65, she locked up Missouri's ensuing possession to give the Lady Vols the final possession. Jackson would go on to hit the game-winning shot on the next possession. 
Puckett's versatility has made her vital to Tennessee this season and the x-factor on Sunday. 
"The great thing about Sarah and her versatility, it matches Rickea's versatility," Harper said. "We can go opposites. So, we were trying to post up Sarah when they were putting guards on her, and then they put a big on Sarah, and we can just move people around. Obviously, Sarah was a benefactor and knocked down those shots tonight."
Struggles on the offensive glass
The offensive glass kept Missouri in the game on Sunday. 
The Tigers pulled down eight offensive rebounds in the first half, leading to 10 second-chance points. Tennessee only got two offensive boards. 
Missouri outrebounded the Lady Vols 19-18 in the first. As with most of Tennessee's games this season, the game goes as the Lady Vols go when it comes to boards. 
Tennessee managed to fight back and win the game, and win the rebounding battle 34-32.
The absence of Horston, Tennessee's leading rebounder, may have led to the Lady Vols' struggles on the glass. Missouri also consistently got better positioning on Tennessee under the basket. 
"The rebounds was definitely a big thing because (Horston) is our leading rebounder," Puckett said on radio when asked about not having Horston. "I felt like everybody did their job and whoever went into the game, did the job of boxing out and getting the rebound and crashing each time."
Utilizing your timeouts 
When to use, or when not to use timeouts is an age-old debate. Some coaches are quick to use their timeouts. Other coaches use timeout more sparingly. 
On Sunday, Harper was quicker in using her timeouts. The night's biggest play may have been Harper's drawing up of Puckett's three-point play. 
"Coach Kellie (Harper) drew it up, amazing how she normally does," Puckett said. "She has Rickea, of course, an attacker going and she didn't have anything. You have two shooters, one right behind her, one in the corner. And they both went down." 
The Lady Vols, when utilizing timeouts, have had a lot of success in set pieces and plays. They look to continue their success on Thursday when rival UConn comes to Thompson-Boling Arena. 
"We've got players that know what they're doing," Harper said. "We have the timeout, we're able to draw something up for them. The other confidence piece is our team never flinched. They never flinched. They had great confidence going down the stretch."
>>> ad: See the Best Amazon Deals of TODAY! <<<<
Originally Appeared Here