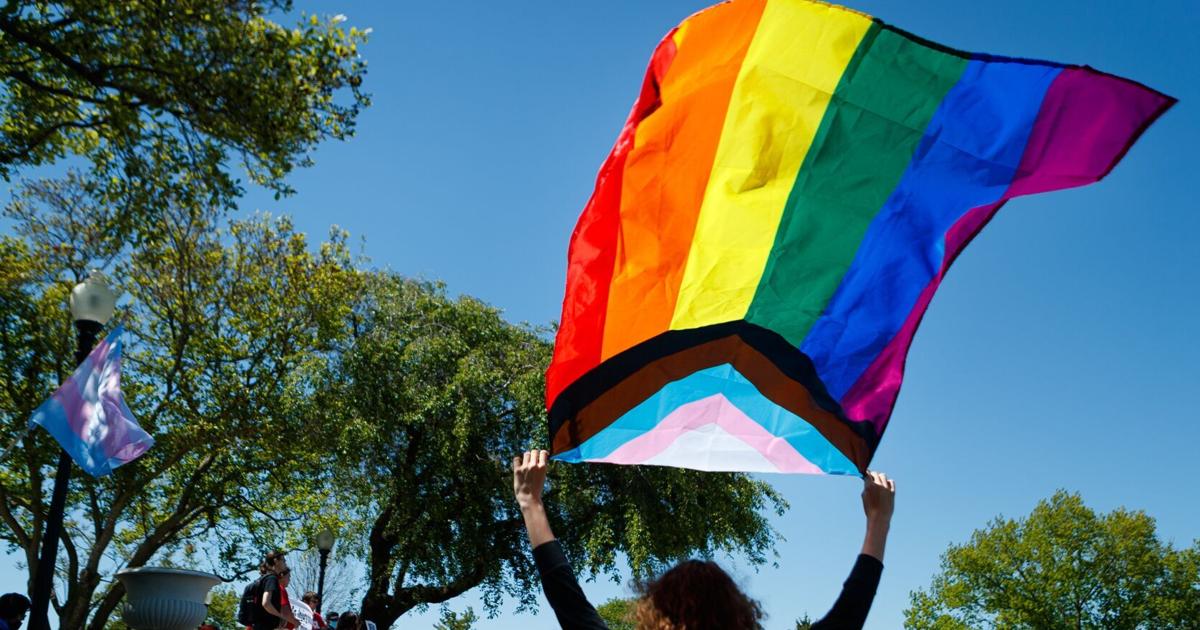 Vee Blase, who is from Jefferson City and identifies as nonbinary, holds up a flag in support of a transgender rights rally at the Missouri Capitol in Jefferson City on Saturday, April 29, 2023.
Thank you for reading this post, don't forget to subscribe!
Michael Clubb, Post-Dispatch
JEFFERSON CITY — A new survey shows a majority of likely voters in Missouri oppose gender transition medical care for youths younger than 18.The poll, conducted July 27 through Aug. 8 by St. Louis University and YouGov, found that 73% of the 900 likely voters oppose minors receiving gender-affirming surgery. Another 63% oppose hormone therapy or medication that can temporarily prevent the effects of puberty.The survey results show Missouri Republicans are nearly unified in their opposition to the procedures, with more than 90% saying the option of surgery and medication shouldn't be offered to minors.Those polled split on whether gender-affirming counseling was appropriate for minors, with 44% in favor and 44% opposed. Thirteen percent said they were not sure. The margin of error for the results is 4.02%."We can pretty clearly state that Missouri has more reservations regarding what kind of medical care minors should receive," said SLU political scientist Steve Rogers, who was part of the team conducting the polling.
People are also reading…
Couple preserves a unique 1904 World's Fair home in CWE
Cardinals await word, moves as Lars Nootbaar, Tommy Edman injuries thin a bruised lineup
Hochman: Heading into start, Cardinals' Adam Wainwright declares, 'I'm not going to quit'
Dynamic shortstop prospect Masyn Winn rises to the majors, will join Cardinals on Friday
Deal dead for sale of AT&T tower in downtown St. Louis
Cardinals' problems go much deeper than Pirates dunking on them, 11-1, in rookie's debut
Teens must have parent permission to visit St. Charles Co. libraries after 'unsafe' crowds
Lufthansa hopes to expand Frankfurt flight from St. Louis as passengers pack seats
5 high school softball players to watch this fall
Tipsheet: Blue Jays dump DeJong, Cardinals go into Winn-now mode
Hold off on pruning boxwoods, yews and burning bushes
Downtown St. Louis hotel with World's Fair mural is set for renovation and rebranding
Where Drew Rom's bumpy MLB debut took a detour, inviting Cardinals to wonder 'what if'
Josh Hawley defers to voters on abortion. Eric Schmitt calls Missouri referendum 'inevitable.'
5 high school boys soccer players to watch this fall
The results mirror a national poll released in May by Washington Post-KFFA also showing a majority of Americans oppose allowing gender-affirming care for minors.The findings come as testimony in a high-profile lawsuit got underway Tuesday on a new state law taking effect Monday that bans gender-affirming treatments for minors.Following three days of scheduled testimony, St. Louis Circuit Judge Steven Ohmer is expected to decide whether to issue an injunction blocking the law.Under the new law, physicians could lose their medical licenses and health care providers could face civil lawsuits for prescribing hormones and puberty blockers to minors.Attorney General Andrew Bailey, a Republican seeking a full term in 2024, is representing the state in the case. He also is investigating the Washington University Transgender Center at St. Louis Children's Hospital.Bailey launched the probe in February after Jamie Reed, a former case manager there, alleged children received puberty blockers and hormone therapies without proper screening or parental consent.In April, Washington University released the results of its own investigation, concluding that Reed's claims were unfounded."The review affirmed that physicians and staff at the Center follow appropriate policies and procedures and treat patients according to the accepted standards of care," the university said in a statement.The poll also found that 67% of those surveyed oppose allowing transgender student athletes to play on sports teams that match their gender identity, rather than the gender they were assigned at birth. Just 19% favor the practice, with 15% not sure.That sentiment also falls in line with a new state law barring transgender youth from playing on sports teams matching their gender identity.The issue of transgender rights was a flashpoint in the Missouri Legislature during its spring session.According to the poll results, respondents were split on the effectiveness of the Missouri General Assembly, with 46% approving or strongly approving of the work of the Republican-led House and Senate and 45% disapproving or strongly disapproving of the job it is doing.The man who signed the transgender restrictions in to law, Republican Gov. Mike Parson, received mixed results too, with 49% approving or strongly approving of his performance, compared to 43% disapproving or strongly disapproving as he heads into the final year of his term.Missouri's entry into the debate over transgender youth comes as 23 other states have established restrictions on transgender athletes since 2020.While the survey found voters favor laws legalizing marriages between same-sex couples by a 56-34 margin, the respondents opposed discussions of sexual orientation issues with students in elementary and middle schools.Those discussions, however, were favored by 56% of those polled if they occur in high school settings.Rogers said the results show there is nuance on the issue of LBGTQ rights, but, in general, voters want to "pump the brakes" on transgender issues."Voters are not comfortable at this point," Rogers said.The poll also found opposition to book bans regarding stories about gay or lesbian youth. While 33% favor such bans, 54% said they oppose the idea.Similarly, 49% oppose banning books with stories about transgendered youth, while 38% support the idea.
Senators Bill Eigel, R-Weldon Spring, and Greg Razer, D-Kansas City, discuss a bill to bar medical care for transgender children. Video by Beth O'Malley
Be the first to know
Get local news delivered to your inbox!
>>> ad: See the Best Amazon Deals of TODAY! <<<<
Originally Appeared Here