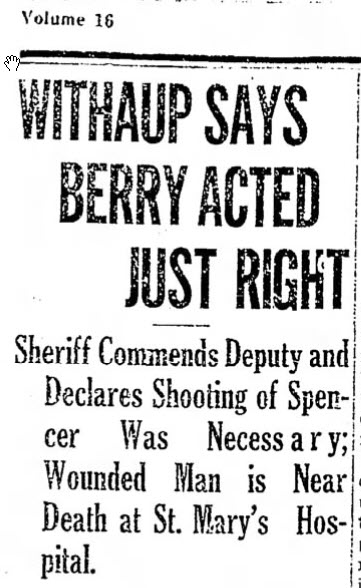 Thank you for reading this post, don't forget to subscribe!
The candidate supported by the brief resurgence of the Ku Klux Klan in Jefferson City was elected to enforce the Volstead Act. While local involvement with the Klan dissipated in 1924, Louis Withaup and his Four Horsemen made raids for the next four years in Cole County and its neighbors.
The only Democrat to win his office in that election, Withaup "pledged to the strict and impartial enforcement of the law," which would "sound the death knell of the bootlegger and gambler." His tire repair shop on Capitol Avenue had been a meeting place for the Klan, and he was not ashamed to post his involvement above his door.
Withaup was orphaned at age 9, learned the blacksmith trade in Warren County and moved his shop to Jefferson City by 1895, eventually adding tire repair as the times changed. The Jefferson City Post-Tribune described him as having a powerful physique, magnetic personality, colorful character and perhaps too much benevolence.
Just days after taking their oaths of office in January 1925, Withaup and his deputies joined four federal Prohibition officers in raiding several soft drink parlors across the city. These raids might have been bigger if a zealous newspaper editor had not printed the targeted locations prior to the raid itself.
Withaup continued to take down liquor, no matter who might be holding it. But the courts and public officials did not always support him. Several anonymous, prominent men were released and their record destroyed after being caught in various raids and saved by a mayor or judge.
The prosecuting attorney from Osage County was found inebriated and in possession, but a judge suppressed the evidence and discharged the case. Church leaders from Moniteau County were caught transporting liquor, bribed the deputies to avoid publicity, and were saved by a judge again suppressing evidence.
Despite those setbacks, Withaup had confiscated so much illegal alcohol within six months it had to be dumped out. From his courthouse office, "the evidence which has been the cause of yearning and temptation around the courthouse for several months (was) poured into the basin while a number of witnesses, dry-tongued and sad, stood around," the Daily Capital News reported.
They went for roadhouses, oasis, soft drink parlors, houseboats, stills, "orgies" and even the Capitol. In one month, janitors at the Capitol carried away nearly 300 whiskey flasks, wine bottles, jugs or Mason jars.
While Withaup and his deputies, including Phil Berry, Jinks Coffelt, Slim McCullough and Walter Withaup, his son, made more than 100 liquor raids during their four years, they regularly stepped outside the law to do so.
Phil Berry, who had been justice of the peace in Hickory Hill, was fired in the fall of 1925 after two incidents. First, he apprehended an Osage City farmer who had sped through a highway barricade to get his wife to a doctor. The wife missed the appointment, and after a long wait in the sheriff's office, the farmer decided he and his family, including the infant he was holding, were going to leave. Berry shoved and struck the father.
Then, Berry shot a defenseless inmate caught in an escape attempt. The inmate was hanging from a bedsheet-rope from the second-story window and when he fell to the ground, the deputy kicked and cursed the wounded inmate.
Coffelt had served in the Missouri National Guard during the Mexican border crisis. By the spring of 1926, he staged a one-man raid at Nick Kielman's Farmers Home. Kielman had closed the South Side saloon at the beginning of Prohibition, but opened it once a week for a game of pinochle with 15 local leaders, including a judge, a bank cashier and a respected veteran.
Coffelt told the bunch to put down their cards, but a grocer with a good hand "told Coffelt to go to infernal regions." The businessman complied when the deputy pulled his revolver. When the sheriff arrived, he assessed the scene and simply said, "come on Jinks, let's go."
Sheriff Withaup himself was charged, but sentence suspended, in the fall of 1927 for allowing too many liberties among the Cole County Jail inmates, particularly a group of high-class men held for federal marshals out of Kansas City. They were given rooms in the sheriff's house, allowed to furnish their quarters comfortably and to hire a fellow inmate to be cook and butler.
Much of the expense of the buys and raids came out of Withaup's own pocket. When he lost the 1928 re-election, he left the sheriff's office with little profit to himself and no job prospects.
He attempted suicide by gas in his tire shop, after facing rising debts. He went bankrupt and squared his debt. Fearing poverty and old age, he shot himself one winter evening while his family was out.
Michelle Brooks is a former reporter and editor for Central Missouri Newspapers Inc. She has published five books on local history, including Murder & Mayhem Jefferson City, from which this is an excerpt.
>>> ad: See the Best Amazon Deals of TODAY! <<<<
Originally Appeared Here