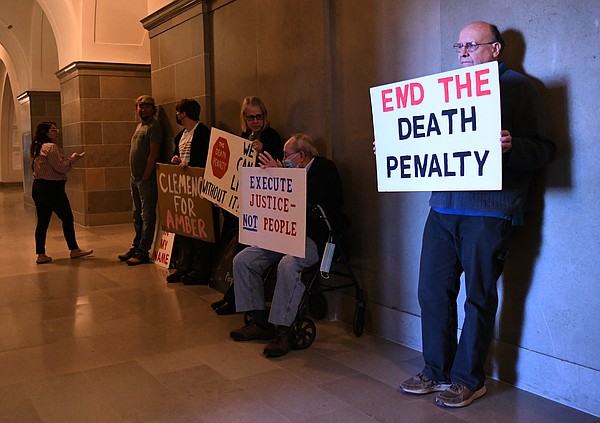 About a dozen protestors gathered in Jefferson City Tuesday to rally against the execution of Amber McLaughlin after the state declined to grant her clemency.
In 2006, McLaughlin was convicted of first-degree murder in the death of her ex-girlfriend, Beverly Guenther, three years prior. Guenther was granted a restraining order against McLaughlin for appearing at her workplace, and when Guenther went missing on the night of Nov. 20, 2003, McLaughlin reportedly led police to the spot along the Mississippi River in St. Louis where her body had been left. Police also located a broken knife handle and a trail of blood in Guenther's car, which was left outside of her workplace.
McLaughlin was sentenced to death by a St. Louis County judge after the jury deadlocked on the sentencing. A new sentencing hearing was ordered in 2016, but the death sentence was reinstated by a federal appellate court in 2021. McLaughlin's execution by lethal injection was scheduled for 6 p.m. Tuesday in Bonne Terre.
McLaughlin's defense petitioned the state for clemency, citing trauma that spanned from her childhood to adulthood, including abuse by family members, severe depression and attempts at suicide.
The petition also included a diagnosis of gender dysphoria, a disparity between one's gender identity and sex assigned at birth that can cause anguish and other symptoms. McLaughlin, who transitioned while in prison, is the first openly transgender person to be executed in the country, according to MADP and the Death Penalty Information Center. Only one other woman had been executed in Missouri previously.
Parson announced the execution would proceed Tuesday morning, shortly before the demonstration began.
"McLaughlin's conviction and sentence remains after multiple, thorough examinations of Missouri law. McLaughlin stalked, raped, and murdered Ms. Guenther. McLaughlin is a violent criminal," Parson said in a statement. "Ms. Guenther's family and loved ones deserve peace. The State of Missouri will carry out McLaughlin's sentence according to the Court's order and deliver justice."
The protest, organized by MADP, began outside of the Missouri Supreme Court while the inauguration of Missouri's new attorney general, Andrew Bailey, was held inside. The group then headed across the street to hold signs outside of Parson's Capitol office. Michelle Smith, MADP's co-director, said McLaughlin's execution was the latest addition to an unfavorable track record for Missouri.
"It's always horrible, the murder of people regardless of what they've done," Smith said. "The state says it opposes murder, and then it commits murder. We're just here to stand with Amber and her family. We just have to keep pushing toward the time when we actually value humanity and show mercy and compassion."
Demonstrators traveled from as far as St. Louis to make their opposition known. Michaela Joy Kraemer, interim executive director of the Metro Trans Umbrella Group, said she knew McLaughlin and that the group was standing in solidarity with her.
"It's a somber day, and it doesn't quite feel real," Kraemer said. "She let me know last night how she's doing, and I just talked to her on the way here. It's hard to hold out any hope, but we're doing what we can."
"I haven't known Amber too long, but I learned about her through hearing about the case," said Britney Hochman, a member of the group. "In the few short conversations that we've had, from one trans woman to another, we've developed a connection and understanding. I see someone who is so tender and sweet and someone defined by the worst thing she's done, and I have a very hard time accepting the situation for her and can only hope the outcome isn't what it's expected to be."
Two other demonstrators made the trip from Columbia: Laird Okie, a regular at MADP protests in the Capitol, said there was "no rational justification" for the death penalty and that it did nothing to deter criminal activity. Jay Castilow, a student at Rock Bridge High School, said the death penalty carried a cost not only for the state but for families and communities.
"There are just so many reasons why someone should be opposed to the death penalty," Costilow said. "Whenever there's execution, it really just shows that misery doesn't care about the lives of anyone. So I feel like it's an issue that should really that both sides should be appealed to, but it's really not. The side that always says that they're all against murder and they love life is the side that is encouraging these executions."
Missouri held two executions last year: Carman Deck was executed in May for a double homicide that allegedly occurred during a robbery, and Kevin Johnson was put to death in November for the slaying of a Kirkwood police officer.
The execution of Leonard "Raheem" Taylor, who was convicted in 2008 of murdering a woman and three children, is scheduled for Feb. 7. MADP Co-Director Elyse Max said Taylor's defense was spearheading an innocence claim in court.
Max said the Attorney General's Office had requested two additional execution dates. Johnny Johnson, who was sentenced for the rape and murder of a child in 2003 in Randolph County, may have a case due to a schizophrenia diagnosis. The other request from the state was for Michael Tisuis, who was convicted in the murder of two Randolph County jailers during a 2000 prison break attempt.
See also:
Transgender Missouri inmate executed for fatal stabbing
>>> ad: See the Best Amazon Deals of TODAY! <<<<
Originally Appeared Here