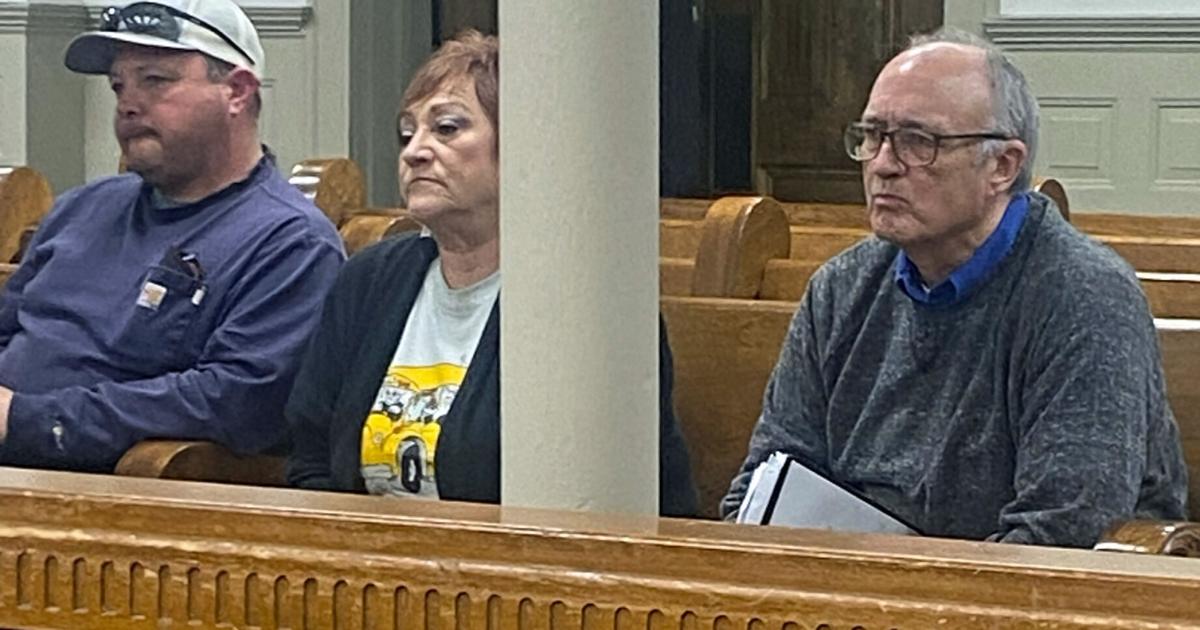 The Columbia County Quorum Court Finance Committee will recommend to the full court next month two salary increases in the Sheriff's Office.
But, the committee stopped short Monday of suggesting a cost of living adjustment or one-time increase for all county employees.
Before the discussion about increases began, County Treasurer Selena Blair told finance committee members that county employees work tirelessly, even on their days off — and need relief from the country's high inflation rates — particularly those who are the lowest paid among staffers.
"We are looking at an all-time high inflation rate of 7 percent and they need help to be able to survive this," Blair said. "I recently went to pick up a cold medicine for a month's worth that used to be $48 and now it is $80 a month. If that is hard on me as an elected official, I know it can't be easy on them."
Blair said a $2,000 to $3,000 one-time bonus that could be stretched out on county checks to avoid taxes taking up most of it was one suggestion or a 3 percent COLA for county employees to keep up with the national average of those in other counties.
Justice of the Peace District 10 Lynn Story, who represents part of Magnolia, is not on the Finance Committee but came to the meeting along with several other members of the Quorum Court and sat on the front row to interact with committee members during the meeting. The majority of questions they asked had to do with this item on the agenda.
Story, a longtime member of the Quorum Court, told members he had many people in the public who had expressed to him concerns about additional raises in the county, but Blair promptly emphasized that they were not talking about giving raises, just a one-time bonus or a COLA.
He began his argument against any kind of increase by asking members of the Finance Meeting if he could read a text sent to him from a person whose identity he would not reveal. They said he could read it.
The following is the text which was shared with the committee:
"I saw where the Finance Committee was going to meet regarding raises for the full time county employees — this is just my opinion and I try to stay out of things — but I hope someone reminds those asking for raises that the COVID money allowed the county to give "unbelievable" bonuses not that long ago!"
The text continues, "I feel confident that the salary figures someone is going to present will not include the bonuses. I know that county employees may not be the highest paid workers, but when you consider their package of holidays, vacation, sick days, personal days and retirement-they are pretty nice packages. As I said this is just my opinion but as a taxpayer, I get pretty tired of hearing about raises and bonuses. Correct me if I am wrong, but the budget was passed in December with no raises (or maybe a few got them), why are raises even being discussed one month later?"
When contacted on Tuesday following the Monday night meeting, Blair was asked to explain the raises that were given recently-even though raises are not is what is being suggested to the Quorum Court at this time. She said every county employee received at least a 6 percent raise in 2022, raise levels varied by department and position.
The lowest percent of raises were 6 percent, and that went to the employee who maintains the outside of the courthouse lawn and the employee who cleans the inside of the courthouse and the highest raise anyone received last year was a 53.8 percent raise to the county Quorum Court members themselves, she said.
With this 53.8 percent raise, Quorum Court members went from making $3,434 for their annual salary to $5,281 per year. This was a $1,848 increase.
With 11 members on the Quorum Court, this means the amount paid for their services went from $33,774 a year to $58,101 per year.
In comparison, among the lowest county workers, according to budget materials from last year's budget, the courthouse maintenance worker, who received the 6 percent raise, received a $1,515 increase, going from $25,216 to $26,731 a year.
Blair said the 6 percent raises were fought for.
"We begged to get 6 percent and that was for the ones of us that got left behind," she said.
When contacted after the meeting, Story, a business owner of Story's on the Square since 1977, said he understands finances and thinks it's important to manage the county's money carefully.
He added that he is not alone and that he encourages others who feel the same way about the county workers receiving a one-time bonus or COLA to be involved and come and speak at the next quorum court meeting.
The next Quorum Court meeting is at 5 p.m. February 13 on the second floor of the Columbia County courthouse.
"Just because we have the money doesn't mean we have to spend it," Story said.
"I just don't understand the reasoning. I am trying to be careful."
The county judge and sheriff make $57,000 and other elected officials make $54,000 and that is pretty good money for Magnolia."
Blair, who manages the county's money, said the county has $32 million in the bank with a $14 million operating budget and money that could be spent on giving the employees a one-time bonus or a COLA. She said she did the math in last year's budget and thinks this is the right thing for the county.
In 2021, the county received $2.2 million from the American Rescue Plan from the federal government and spent money on premium pay for employees and a body scanner for law enforcement, leaving $591,000, she said.
The county also has $669,000 related to the CARES Act for any legitimate county expenses, she said.
In 2022, the county received another $2.2 million from the federal government.
Justice of the Peace District 6 Shaun Dodson of Taylor who is just beginning his first term with the Quorum Court, works for an oil and gas company. He told the Finance Committee he was concerned about the additional money being possibly spent on county employees.
"I've never got a 6 percent raise ever," he said.
In other business Monday night, Columbia County Sheriff Leroy Martin asked for approval to buy three law enforcement vehicles $38,000 each for a total of $114,000.
Martin told the committee members that the last time the Sheriff's Office received a new fleet of vehicles was in 2020.
Mileage is becoming high on the vehicles and at about 60,000 or 70,000 miles, the 4X4 goes out on these Dodge vehicles that the county has under contract.
"When we really had that bad ice storm before we were able to pick up doctors and nurses and on top of that some people didn't have their medicine," Martin said. "We either face this now or face having to replace a whole fleet of them."
Some of the older vehicles have 200,000 plus miles on them and Martin said he knows they are having problems and will not be able to perform as they should for much longer.
Justices approved placing the request on the full court's agenda on February 13.
Also approved by the Finance Committee for the full court's consideration is a $3,000 raise for an existing patrol deputy's position.
>>> ad: See the Best Amazon Deals of TODAY! <<<<
Originally Appeared Here