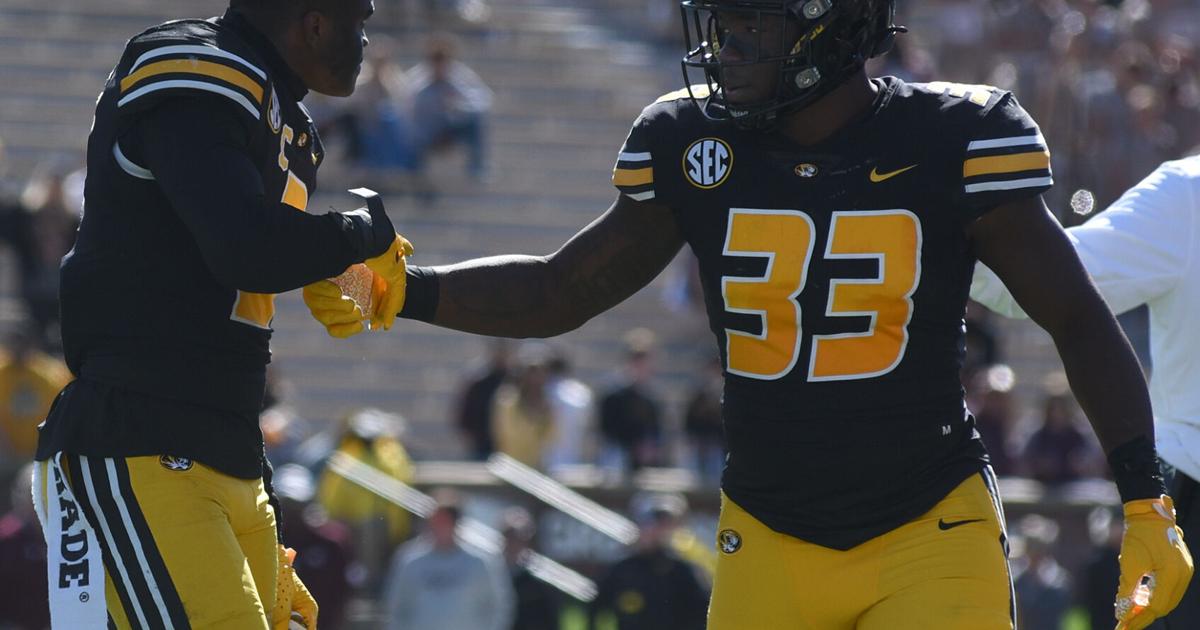 Martez Manuel always told himself that if he didn't redshirt, he was going to play just four years for Missouri. With just two guaranteed games left in his collegiate career, the wins and losses won't define his career — but they did shape it.
After starting a handful games as a freshman, Manuel found success in his second season, playing himself into the decision of walking after a fourth year. And it's nothing against his coaches or his teammates; Manuel is just ready for the next step.
"I got friends who are from all over the place, and they've been in Columbia for nearly four years now. They're telling me that they're ready to get out. Imagine being here since you were in eighth grade," Manuel said.
"I'm just ready for that next chapter. I'm ready to see the world, and I'm ready to start my new journey."
And as he says goodbye to Missouri, Manuel knows his relationships will last a lifetime. He recognized how grateful he is for how Columbia has shaped him.
From a football aspect, Manuel learned life isn't fair. Playing four seasons at Missouri, the senior has battled the struggles of not getting over the .500-record hump.
"That's kind of a harsh way to put it," Manuel said. "I personally worked hard, not saying my teammates don't; everybody works hard. But sometimes, even like me, you work really hard, you still fall short and stuff like that."
If it weren't for freezing weather in the forecast, Manuel joked that senior day would be more emotional. On a more serious note, he added that he's been feeling the emotions since before the Kentucky game.
While he anticipates Memorial Stadium will not reach more than 60,000 fans, he hopes others can enjoy one of the final hoorahs for the seniors.
"I never experienced something like that, and I feel like that was a small glimpse of how I'm going to feel Saturday," Manuel said. "This has just been such a long road, and to be able to finally say that you're at the top of the mountain, it's a great feeling."
Manuel hopes his class can leave a mark on Missouri that paves the way to future success. He believes the Tigers are one step away from finding the footing of a powerhouse — which, in his eyes, could start as early as next season.
To Manuel, the defense is in good hands. Although eligibility and professional pursuits will affect the structure of the 2023 defense, he tabbed Jayden Jernigan, Kris Abrams-Draine and Jaylon Carlies could lead the defense moving forward.
"This defense, this team is going to be just fine," Manuel said. "And that's something that (means) I can sleep easy at night, and that's something that helps me feel comfortable taking that next step."
Future leadership
With one more year of eligibility, left tackle Javon Foster is undecided on where he will be next season. Foster won't be walking with seniors Saturday, but as he looks toward his own future, he had high praise for the future of MU's offensive line.
Freshman Armand Membou stepped into a starting role at right tackle this past Saturday against Tennessee. Membou has turned heads all season after turning the heads of his coaches and teammates.
"He's a beast, honestly," Foster said. "He's going to be a great player."
Defensive tackle Darius Robinson sees Membou as a captain of the future, and Foster agrees. From being a more quiet player to asking consistent questions, Membou's work ethic screams leadership.
The return of Chad Bailey bolsters that leadership to Manuel and quarterback Brady Cook. And while more seniors contemplate their next decision, Cook will wait until the season is over before he gets in their ears about petitioning them to come back.
With right tackle Hyrin White eyeing a return on a medical redshirt, Cook has experienced linemen, along with Membou, in the running for next season. Running back Cody Schrader is a future captain to Cook.
"All of it. Vocal, example, he always does the right thing. Shows up to work," Cook said. "He's never a guy that you hear complain. He's just a teammate, a good friend to everyone. And that dude can play football."
Dove hits pay dirt
For the first time since 2020, wide receiver Tauskie Dove found the end zone, reeling in a fourth-and-1 grab for a 43-yard score against Tennessee.
"The linebacker shot in; I just went right off his backside instead of getting caught," Dove said "And then I (saw) the corner come down and bite a little too hard. And I knew I had an advantage over him to go take the ball and make a play."
Striving to score, Dove said he was happy there was no penalty called to bring it back. But for himself, it was more about executing the "back-pocket" play than worrying about what he couldn't control.
>>> ad: See the Best Amazon Deals of TODAY! <<<<
Originally Appeared Here