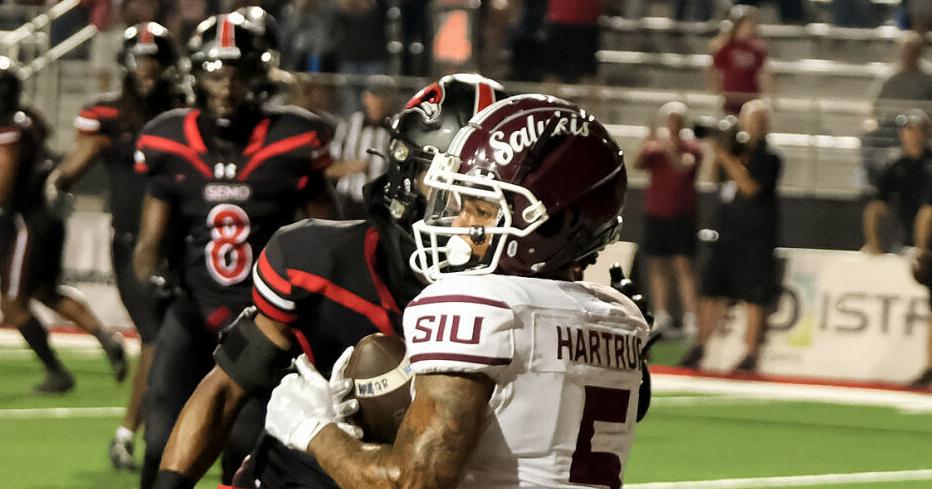 CAPE GIRARDEAU, Mo. – When PJ Jules knocked Southeast Missouri State's final, desperate pass down to the Houck Field turf Saturday night, teammate Zach Burrola sprinted for the west end zone, barely yards from where Izaiah Hartrup caught the winning touchdown pass.
Thank you for reading this post, don't forget to subscribe!
Burrola, Colin Bohanek and others emerged moments later with the Wheel.
It got a late-night ride back to SIU, its home for the next year.
Turning the tables on the 13th-ranked Redhawks, the No. 15 Salukis stormed back from a 15-0 halftime deficit and recorded a stunning 26-25 win before a sellout crowd.
SIU never led until Hartrup hauled in Nic Baker's 9-yard touchdown pass on 4th-and-1 with 11 seconds left – precisely the same time when SEMO beat it last year.
"My favorite win, in general, in my life," Hartrup said.
How the winning play happened symbolized the game's arc. One play after Baker was sacked for the only time on 51 pass attempts, the Salukis (3-0) used their last timeout with 16 seconds remaining. Baker's first option was Vinson Davis but the Redhawks (1-2) covered him.
Given plenty of time to look through his progressions by the offensive line, Baker cocked his arm and zinged a bullet over the middle. Hartrup beat his defender and caught the ball in the back of the end zone as the SIU portion of the audience of 8,613 celebrated.
"He was the last look," Baker said. "They ran some sort of man coverage, which they run a lot, and I thought that might come wide open. If it's cloudy over on the other side, I come back to Izaiah because I trust him."
Baker and Hartrup might not have gotten the chance to write their names into Saluki lore were it not for Desman Hearns. The backup safety teed SIU up at the SEMO 38 with 1:46 on the clock when he stripped the ball out of Geno Hess' arms on a 3rd down run to force the Redhawks' only turnover.
Baker and coach Nick Hill were pondering what plays might work best if the Salukis had to march 80 yards or more without any timeouts in the last minute.
"For him to come in like that and strip a good back like that and give us the life we needed … what a huge play," Hill said.
SIU was lucky to only be down 15 at the half. Baker threw for only 54 yards and tossed two interceptions. SEMO owned superior field position the entire half and outgained 197-95. Its defense even kicked in a second quarter safety.
Yet the game was still within reach at halftime, when Hill opted for a bit of shock treatment.
"I called out the offense and Nic," Hill said.
Message received. Getting a break when the replay official reversed a call on the field that gave the Redhawks a touchdown and turned a lateral into an incomplete forward pass, the Salukis marched 90 yards and scored on Romeir Elliott's 5-yard run less than four minutes into the third quarter.
Baker and Davis made it 15-13 on the next possession, connecting on a 68-yard catch-and-run touchdown over the middle. That was the longest play of the most productive half of Baker's career as he threw for a whopping 404 yards.
"I've always been good about making mistakes and getting over them real quick," Baker said.
SEMO responded with Hess' 9-yard touchdown run on its next possession, then quashed two promising SIU drives by recovering fumbles inside the 15. It turned the second into D.C. Pippin's 40-yard field goal and a 12-point cushion with 12:37 left.
But Baker cut the deficit to 25-20 on a 15-yard bullet to Hartrup in the left corner. And when Hearns gave the Salukis one last chance, Hartrup ran the appropriate pattern for the moment.
"A win pattern," he said.
Outgained 197-95 in the first half, SIU rolled up 448 yards and finished with a season-high 543. SEMO managed just 140 after intermission. … Jules outdid his Missouri Valley Football Conference co-Defensive Player of the Week performance from last week with a career-high 15 tackles and three pass breakups. … Elliott amassed 123 total yards from scrimmage – 67 on the ground and 56 off seven receptions. … Baker ended 37 of 51 for 458 yards, just short of his career high set against UNI last year with 485. … The Salukis are off next week and open conference play on Sept. 30 at home with a 4 p.m. kickoff against Missouri State.
bucky.dent@thesouthern.com
618-351-5086
>>> ad: See the Best Amazon Deals of TODAY! <<<<
Originally Appeared Here