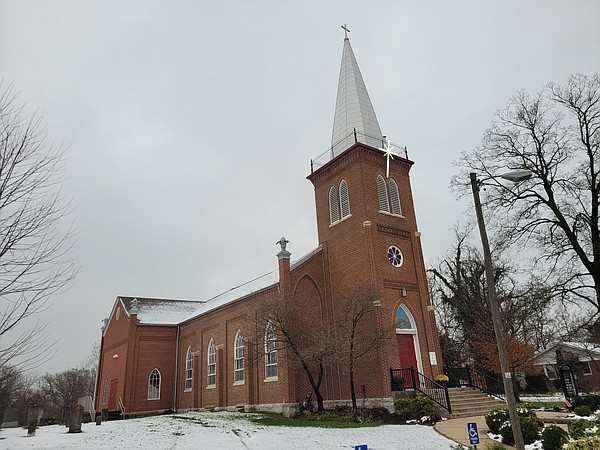 St. John's Lutheran Church in the community of Schubert near Taos has a verifiable history dating back to 1844, in essence making it the second Lutheran congregation to come to Cole County just after Zion Lutheran Church.
It was during this year that a group of Bavarian immigrants (followed by Austrians and Swabians), having recently settled in the area, purchased sections of property one-half mile east of the present church that grew to almost 22 acres. They soon banded together to organize the Osage Point Church.
"Schubert was once quite a bustling community," said Pastor Gerald Scheperle, who has been pastor at St. John's Lutheran Church in Schubert since 1980 and is now the longest-serving in the congregation's history.
"There used to be several businesses like a tavern, blacksmith shop, hatchery and dance hall, all of which have disappeared," he added.
The Osage Point Church, although established as a Lutheran congregation, was in its early years often supported by pastors from Zion Lutheran Church in addition to missionary pastors traveling through the area. At times, they were associated with pastors from the Missouri Synod, Iowa Synod, German Evangelicals or "anyone who could stop by and preach," Scheperle said.
The beginnings of St. John's Lutheran Church unfolded on Dec. 5, 1866, when Lorenz Schubert, George Schuster and Albert Koehler — trustees for Osage Point Church — purchased the 4.45-acre property a short distance to the west where the church is now located. Historical records reveal this property was initially purchased in 1850 for the purpose of establishing a Methodist Episcopal Church, which never came to fruition.
"Osage Point had really just been a preaching station, and we believe it consisted of a log church that is no longer there," Scheperle said. "The old church may have been disassembled and moved here to use as the first church for St. John's. There is also a small cemetery off Lisletown Road near where the Osage Point Church was once located."
He continued, "When they purchased the current property we are on, it was so that they could be situated closer to the Old St. Louis Road that later became U.S. Highway 50."
Church documents indicate that in 1868, Pastor Conrad Duerschner, who was at the time serving a call to St. Paul's Lutheran Church in Lohman, which was part of the Iowa Synod, began providing pastoral support to the budding congregation in Schubert. Around this time, a small parsonage was built and, in 1869, St. John's Lutheran Church officially organized as a congregation.
For the next 50 years, St. John's was predominantly supplied by pastors affiliated with the Iowa Synod. The congregation's first resident pastor was Rudolf Pfister, who remained with the church until 1870. During his brief time with the Schubert congregation, a new, small log church was erected.
Next came Pastor Christoph Schober, who remained for five years until being succeeded by Pastor H. Wesche, who remained until 1878. His replacement was Pastor Robert Falke, a recent seminary graduate who remained for three years.
Pastor Conrad Mutschmann-Gebert, a German native and graduate of Wartburg Seminary, was "installed at St. John's late in 1881 and tended the flock here until he died of heart disease June 2, 1885, at age 33," a historical bulletin described.
"Pastor Mutschmann is buried in our cemetery along with two of his infant children that died the day after birth." The booklet added, "It is known … that during his pastorate an organ was purchased from a New Jersey firm for St. John's Church."
The next pastoral call was submitted to Ernest Frederick Geyer, another recent seminary graduate still residing in Germany. His pastorate, beginning in 1886, was an exciting period accompanied by the construction of a new church and parsonage.
"In the early months of 1889, it was decided that the continued growth of the congregation necessitated the erection of a new church building," noted the one 100th anniversary booklet printed by the members of St. John's in 1969. "The weather-boarded building that had served the parish since c. 1870 … had become too small."
Designed by Jefferson City architect William Vogdt, the Gothic-style brick church, which continues to serve the congregation, was built at the cost of $4,900. In 1897, a new parsonage was also built, and the old church building was used for several years as a parochial school.
The Lutheran congregation at the former Emanuel Lutheran Church in Centertown entered into a dual-parish agreement during Pastor Geyer's tenure at Schubert. This agreement remained in effect for several years; however, the church in Centertown began its decline in membership in the 1920s and all that remains is an empty lot flanked by a cemetery.
Pastor Geyer remained with St. John's until 1902, at the time having earned the distinction as the longest serving pastor for the congregation. The next several years brought many changes as several pastors filled the pulpit. But in 1921, the church welcomed the Rev. Otto Bernthal and made the official transition to the Missouri Synod.
Additions and improvements have been made to the church and surrounding property in recent years. Several pastors have come and gone, but all since 1942 have supported the dual-parish arrangement that continues between St. John's in Schubert and St. John's Evangelical Lutheran Church in Babbtown.
Pastor Scheperle, who has served both these Lutheran congregations for more than four decades, notes the church in Schubert holds a special distinction among other Lutheran congregations in Cole County.
"We are one of the oldest Lutheran churches in the county, and Zion, which was the oldest, is now closed," he said. "Our church has been continuously sharing the Gospel since 1844, and that's an achievement worthy of celebration."
He added, "St. John's in Schubert has vacillated between different synods throughout the decades, but the need for a pastor and a solid Gospel-centered ministry became an important part of our history. We were a small church and both Iowa and Missouri Synods wanted to lay their claim on the congregation, but history has a way of unfolding in unexpected ways. Fortunately, our church remains a strong anchor in a bygone community."
Jeremy P. Ämick writes on behalf of the Silver Star Families of America.
>>> ad: See the Best Amazon Deals of TODAY! <<<<
Originally Appeared Here