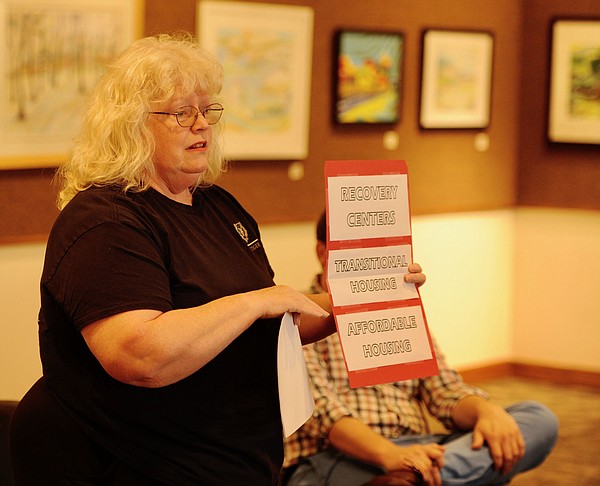 A Jefferson City task force continued its efforts of trying to put into action ideas intended to resolve issues surrounding homelessness.
The Jefferson City Homeless Task Force held its second town hall meeting of the summer Thursday evening, and about 40 people discussed some of the challenges.
They discussed some of the news and possible solutions identified in the organization's last town hall, held in June. A listener said the possibility of offering portable toilets and showers was admirable, but they would require maintenance, monitoring and supervision.
Amy Rogers, of First Presbyterian Church, said she had researched areas in Jefferson City where — if portable toilets and showers were made available — they might easily be monitored for safety.
"Some cities have built it into their downtown areas," Rogers said. "These are, of course, much larger cities than ours."
Volunteers are trying to identify funding for the possibility of the services, she said.
Joshua Dunne, another task force member who works with the Lincoln University Cooperative Extension and in outreach with Building Community Bridges, helped run the Thursday discussion. He said subcommittees will determine what might be feasible within the city.
Dunne added many actions require preceding actions, and the group is in the early stages of finding revenue streams, donors or other ways to fund services.
The group then broke into three subgroups and discussed available services, potential sites and possible funding streams.
Planning for the series of meetings began in May after several disturbances occurred at Missouri River Regional Library. The library acts as a cooling center during the day during hot weather and as a warming center in the winter.
It also provides services for the city's homeless population — such as use of charging stations, water bottle-filling stations and computers, and assistance filling out forms.
During the task force's first meeting, held in mid-June, about 75 participants identified resources available in the community that might help ease burdens on homeless community members and organizations that serve them. The task force tried to identify which resources each organization provides. For example, while the Salvation Army Center of Hope provides more than 30 temporary beds for homeless individuals and families, the U.S. Department of Housing and Urban Development won't allow the faith-based nonprofit to let homeless folks who are not housed there to enter and use shower facilities.
"We got a lot of good ideas tonight," said Dunne, who led a discussion on locations. "We have a very good blueprint of where we need to go."
The location break-out session identified a number of possible locations for a possible no-barrier day shelter. No-barrier shelters have to be located such that they're not near places that prevent clients who are on offender registries from using them.
The organization will begin reaching out to Realtors and possibly property owners to see what can be done about acquiring a site.
Rogers led the break-out discussion about funding.
She said participants discussed possible activities such as a Kickstarter campaign. If such a campaign received just one dollar from each person in Jefferson City, she pointed out, it would raise $45,000.
Funding discussion participants considered how it might get local businesses involved in supporting the effort.
"We're talking mostly money at this point," Rogers said. "And then, some of that money would eventually be used for items within the day shelter."
Any size of donations or grants would be useful, she said.
Anna Holt hosted the subcommittee discussion on resources.
"The big thing that came out of the resources committee was the updated resources guide," Holt said. "And expand on Caring Connections (which connects homeless people with resources they may need)."
The main issue her break-out session landed on was the idea of providing portable showers and toilets.
"Those are basic human needs that people have," she said, "being able to use the bathroom and keep clean."
>>> ad: See the Best Amazon Deals of TODAY! <<<<
Originally Appeared Here