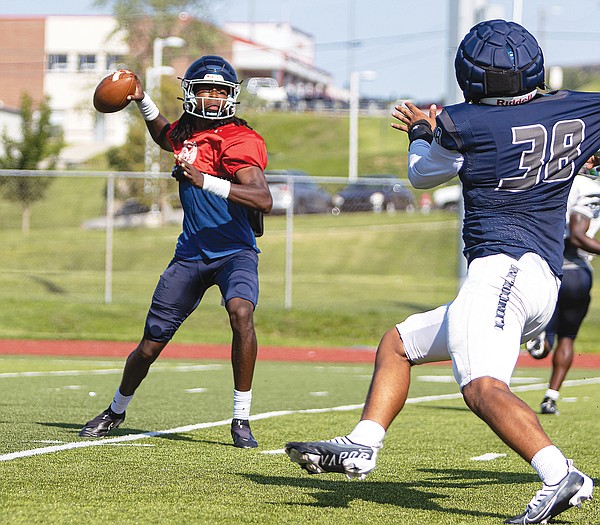 Thank you for reading this post, don't forget to subscribe!
Lincoln redshirt sophomore quarterback Xzavier Vaughn was brought to Jefferson City last season to lead the Blue Tigers' rebuild, but his season was cut short less than one half into the first contest.
But Vaughn enters this season at full strength, ready to accomplish what he was recruited to do and Lincoln couldn't be more excited to have its starting quarterback returning.
"Losing him Week 1 last year was a tremendous blow," Lincoln coach Jermaine Gales said. "I think it will be a night-and-day (difference) this year. It will be totally different than what we have seen in the past."
Vaughn entered the Blue Tigers' season opener last year against Washburn already banged up and was just focused on escaping the game unscathed. But after Vaughn threw a pass to tight end Samuel Ingoli for a 45-yard game late in the second quarter, a roughing-the-passer call left Vaughn on the ground and unable to get up.
Vaughn ended up with a sports hernia that required surgery, ending his season before it ever really got going.
"It was really once my helmet hit the ground," Vaughn said of the moment he knew the severity of his injury. "I tried to lean up and my abdomen was not permitting it. I felt stuff roll around and then realized I couldn't get up, so I knew I was done."
Vaughn spent the rest of the year on the sideline in the role of a mentor to Lincoln's two other quarterbacks Zamar Brake and Nathan Valencia.
Being able to help the guys behind him eased the pain of being out for the season.
"It wasn't really any bad emotions because I trust the guy behind me," Vaughn said. "It put me in a teaching mode. After I went down, it was just more of passing down what I know to the younger QBs. I was just helping where I could, I always try to help where I can."
Vaughn has plenty of knowledge of Gales' offensive system as the two were first paired at Arkansas Pine-Bluff for Vaughn's freshman season.
With Gales bringing the same offense to Lincoln, Vaughn has been instrumental in helping along the rest of the team in learning the system.
"He showed up as a mentor for these guys," Gales said. "… He's given our guys the knowledge he has of this offense because he's been in this system for four years now."
Gales knew he wanted to bring Vaughn with him to Lincoln once he got the head coach position after recruiting him to Arkansas Pine-Bluff.
Standing at 6-foot-6 with an athletic build, Vaughn brings a versitile skillset that is hard to come by.
"He has tremendous football IQ, he's very athletic for a quarterback and he can do things that a lot of quarterbacks can't do," Gales said.
With a core of skill position players returning from last year in Vaughn, running back Omar Allen and wide receivers Aderias Ealy and Damon Bell, the Blue Tigers feel ahead of the game from where they were last season.
"It was a lot of offseason work, a lot of hours put him, a lot of guys stayed over the summer along with myself," Vaughn said. "There were a lot of sleepless nights of us coming out to the field, trying to work on chemistry, work on timing and getting everything down pat."
Coming off a winless season, this group of Blue Tigers is motivated to begin the transformation of Lincoln football this season.
"It's big motivation," Vaughn said. "There's still work to be done in this conference, there's unfinished business in my book."
"I think we still have a bad taste in our mouths from last year," Gales said. "Our guys felt like they were better than the 0-11 record showed. They had a lot to think about, a lot of preparation that took place over the past 365 days. They are chomping at the bit to get going."
The Blue Tigers will open the season at 7 p.m., Thursday, Aug. 31, at Emporia State.
>>> ad: See the Best Amazon Deals of TODAY! <<<<
Originally Appeared Here