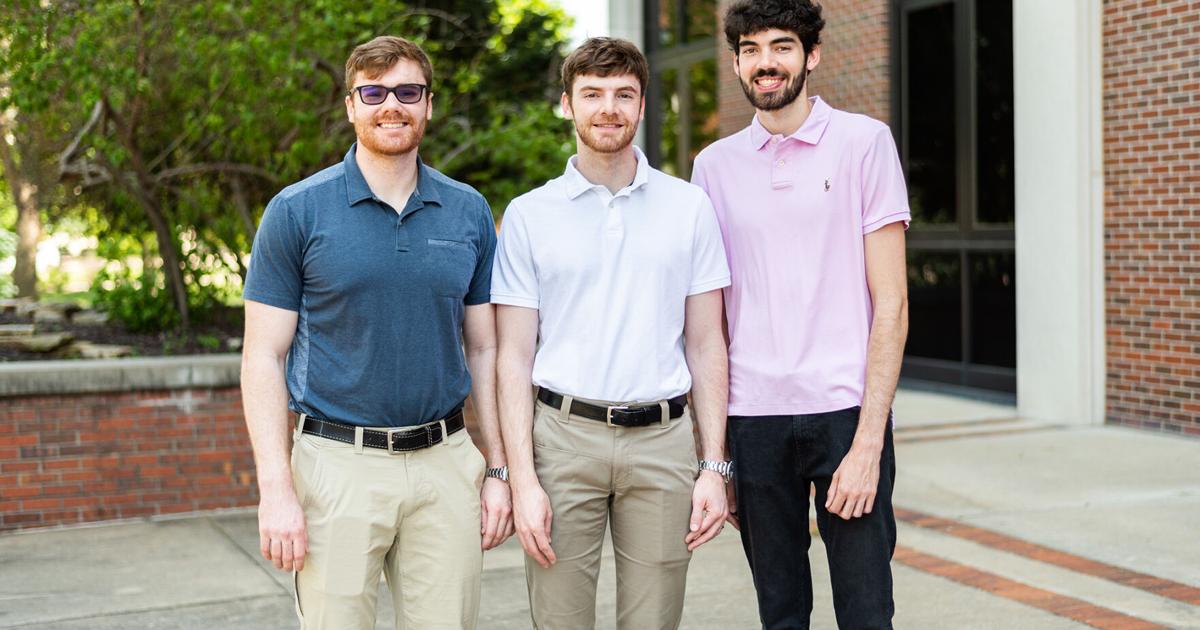 Thank you for reading this post, don't forget to subscribe!
3 Pittsburg brothers follow in dad's footsteps to become doctors
From Pittsburg State University
If all goes well, by the end of this decade three Pittsburg brothers will be doctors, following in the footsteps of their dad, also a doctor — and all four began their education at Pitt State.
The youngest, Aaron, will graduate from Pitt State this Saturday with a degree in Biology and Spanish, and this fall will be a first-year medical student at the University of Kansas Medical Center.
The other two, Ryan and Simon, will be entering their third year at KUMC.
The apple doesn't fall far from the tree.
"Our dad, Dennis Higginbotham (BS '75, BS '87) is an OB-GYN for the Pittsburg area, and our mother is a labor and delivery nurse, so we definitely had that as a source of guidance growing up, our family being in the medical field," said Simon said.
The three grew up attending school at St. Mary's Colgan, and "community service there was always stressed," said Aaron. "It's fulfilling to be able to help someone — we learned that early on with the Lord's Diner, Wesley House, the Salvation Army."
Aaron began thinking of a potential career in health care in high school when he was encouraged to take Anatomy & Physiology, and he was further guided in college by his advisor, Professor Virginia Rider, who advised and educated numerous area health care professionals.
Many of those professionals return to campus to speak in Pre Health Orientation class, Aaron said, sharing their experiences, offering advice, and sometimes granting shadowing opportunities, which has helped.
Aaron went through the early decision program at Pitt State and knew last October he had a spot secured in medical school.
"I'm interested in radiology and anesthesiology, but I'm looking forward to clinicals and rotations in med school so I can learn more about specialties," he said.
Ryan knew at age four or five he wanted to go into medicine, first thinking he might become a veterinarian.
"I decided in grade school to become a doctor, and the experiences I got while I was here definitely helped me get to the next level," he said. "I was active in Biology Club and Pre-Med Club. But Pitt State also gave me the opportunity to explore outside of that — I studied abroad in Finland for a semester, because if you want to study in another country, Pitt State will make that happen, and I took art classes that gave me something outside of science."
Ryan is leaning heavily toward a specialty in plastic surgery, and already has gotten to witness treatment of burn cases and reconstructive surgery.
"Something they ask you to think about, especially when you're applying to med school, and that they consistently point out that wherever you are at, is that you have a chance to make an impact in your community," he said. "Starting out, going through college, I knew I wanted to be able to make a significant difference, and I realized that's a difficult thing to do on a large scale. But if I can make a significant difference for a single person, and they can go out and make a difference to someone else, I can be the source of the ripple. That's my goal, going into medicine."
Simon can't remember wanting to do anything else.
"For as long as I can remember, I have wanted to be a doctor," he said. "The matriculation rate from Pitt State to med schools is exceedingly high, and when you combine that with flat rate tuition, it seemed like an obvious choice to attend."
At the advice of Rider, he also pursued other interests, including coaching youth baseball, playing club baseball, and leadership opportunities.
"Those experiences were crucial in diversifying myself as an applicant for med school," he said.
Simon recently became very interested in cardiothoracic surgery and the use of the da Vinci robotic surgical system.
"When you think about what you want from a career, to have it benefit others is nice. But with medicine you can benefit others and also be constantly challenging yourself, especially in surgery," Simon said. "It becomes a mastery of a process, but in order to master it you also have to understand everything that underlies the process. It's an academically stimulating environment and that drew me to it."
Other Higginbotham siblings include a sister and two brothers, none of whom went into medicine, but who each are contributing to their communities in their own ways.
—
Prairie State Park presents Wildflower Walk May 20
From Missouri State Parks
JEFFERSON CITY, MO — As spring progresses, the prairie becomes more colorful. Join a park naturalist at 10 a.m. Saturday, May 20, at Prairie State Park to walk through green grasses and colorful flowers while learning about the prairie's unique ecosystem.
Participants should meet at the Regal Tallgrass Prairie Nature Center and dress appropriately for a 2-mile hike across the prairie. Long pants, sturdy shoes, insect repellent, sunscreen, water and snacks are recommended.
Due to the unique and rare diversity of life preserved at Prairie State Park, pets are not allowed on park trails, except for Path of the Earth People and Path of the Sky People trails. Bison graze freely in the park and this regulation protects both you and your pet. You are welcome to bring your pet to the park's campground and picnic area, but must follow Missouri State Parks' pet rules. This applies to all types of pets except service animals assisting people with disabilities.
Registration is required and limited to 25 participants. To register, call 417-843-6711. Prairie State Park is located at 128 NW 150th Lane in Mindenmines.
For more information on state parks and historic sites, visit mostateparks.com. Missouri State Parks is a division of the Missouri Department of Natural Resources.
—
Missouri State Beekeepers Association seeks approval for Bee Friendly" Missouri License Plate
From the Missouri State Beekeepers Association
Smithville, MO — The Missouri State Beekeepers Association (MSBA) is seeking to promote awareness and support for the declining bee population in the state of Missouri by introducing a "Bee Friendly" license plate. The organization hopes to get approval from the Missouri Legislature to begin production and distribution of the license plates to residents throughout the state.
According to the MSBA, bees play a crucial role in pollination, a process necessary for the growth of many of the foods we eat. However, the bee population has been declining in recent years due to factors such as pesticide use and habitat loss. The "Bee Friendly" Missouri license plate is designed to raise awareness of the importance of bees and encourage the planting of pollinator-friendly gardens.
In order to get the "Bee Friendly" Missouri license plate approved by the Missouri Legislature, the MSBA is calling on interested individuals to sign up for the license plate. The organization needs at least 200 people to show interest in purchasing the license plate to move forward with production.
"This is an opportunity for Missouri residents to make a tangible contribution to the health of the bee population in our state," said MSBA President Michael Brown. "We encourage everyone who cares about the environment and the food we eat to sign up for a 'Bee Friendly' license plate and help spread awareness of the importance of bees."
Individuals interested in supporting the "Bee Friendly" license plate can visit the MSBA website at http://mobees.org/beefriendly to sign up. The MSBA is also encouraging residents to contact their local representatives and urge them to support the legislation.
—
Governor Parson announces launch of mobile app for schools to rapidly alert responders and school staff to emergencies
From the Missouri Governor's Office
(JEFFERSON CITY, MO) — Governor Mike Parson announced that public and charter schools in Missouri can begin signing up to utilize a new state-funded mobile emergency alerting app that allows teachers and others to rapidly alert school staff and first responders to emergency situations. The alert app will be available free to schools and users.
"We want all students across Missouri to have the opportunity to learn in safe and secure schools," Governor Parson said. "That's why our administration included funding for this school safety app. It puts a simple to use silent alerting app into the hands of teachers and school personnel, so they can get word out of an intruder or other emergency. We will continue to advance school safety and the ability to quickly respond to threats to Missouri's students and educators."
The Missouri Department of Public Safety has funding available for an emergency alert app to be available for public and charter schools across the state. Last month, Missouri contracted with Raptor Technologies to provide what is referred to as a silent panic alerting system.
Utilizing technology that schools already have in place, the app expedites and streamlines emergency response by allowing teachers and other school staff to quickly initiate an alert through their mobile device or computer.
The silent alert works directly with 911 to provide critical information, such as location-based information and school campus maps, with first responders, law enforcement, and campus personnel – within seconds. Additionally, districts are able to schedule and manage their ongoing safety drills using the Raptor software.
Missouri school districts may begin enrolling in the alerting program by going to www.raptortech.com/Missouri. Each district will have its own account that will link the alerts to selected area first responders. Raptor will conduct training for each district, beginning with pilot schools and then district-wide training. The company encourages districts interested in utilizing the app to contact Raptor to begin the enrollment process.
This month, Governor Parson also announced 169 school districts and charter schools have received grants from the newly created School Safety Grant Program.
The $20 million grant was part of Governor Parson's Fiscal Year 2023 early supplemental budget request. Governor Parson's Fiscal Year 2024 budget proposal includes an additional $50 million for the program.